Ukraine, Canada strike free trade deal
13:44, 11 July 2016
Economy
Updated
Ukraine and Canada have signed a free trade agreement, in the presence of Ukrainian President Petro Poroshenko and Prime Minister of Canada Justin Trudeau, according to a UNIAN correspondent.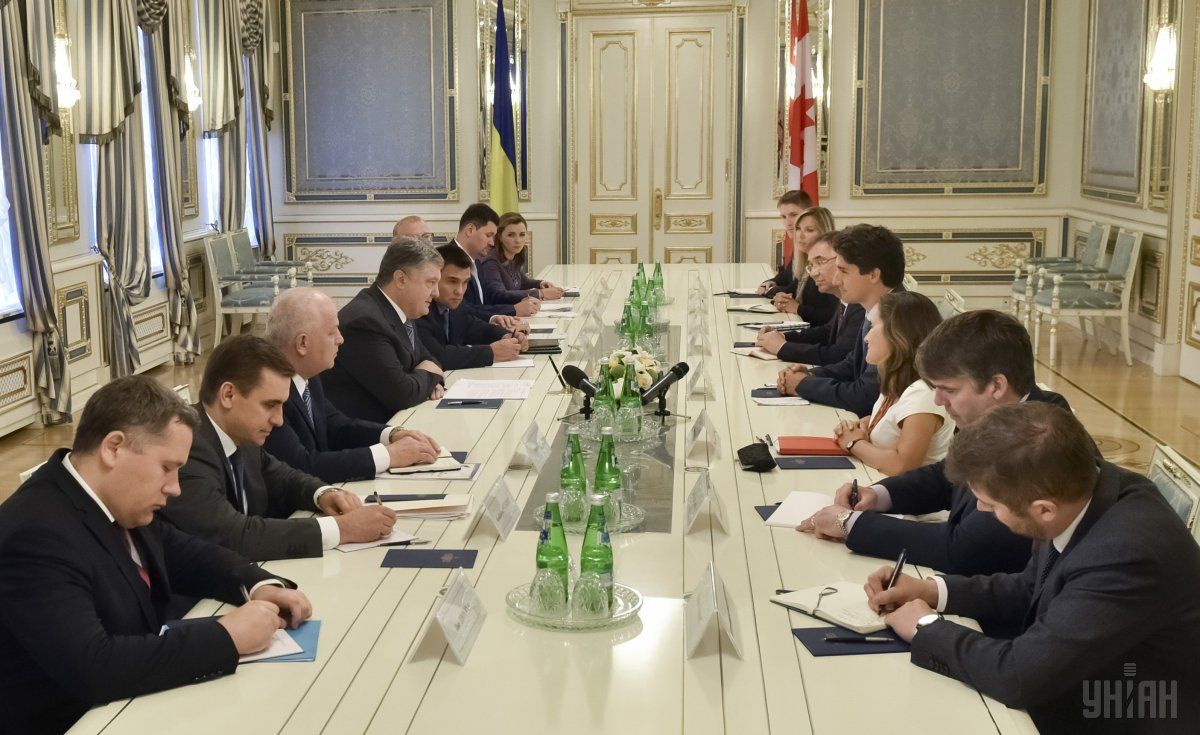 Canada's PM has arrived in Ukraine on his first official visit  / Photo from UNIAN
Ukraine's Ministry of Economic Development and Trade estimates that the free trade agreement will clear the way for the removal of trade restrictions and complete abolition of trade tariffs for key groups of products within a grace period of three to seven years.
In particular, trade tariffs on fish, grains, wine, juices, baked goods, as well as clothing, metal products, and electrical components, will be abolished immediately after the agreement has entered into force.
Exempt from duties for the next three to seven years will be certain agricultural products, as well as construction materials and engineering products, including components for aircraft, cars and tractors.
In addition, the document provides an opportunity for Ukrainian and Canadian companies to participate in public procurements in both countries.
Read alsoCBC News: Canada set to sign trade deal, defence co-operation agreement with Ukraine
Commenting on the signing of the agreement, Poroshenko said that Canada has been, and remains, a reliable partner of Ukraine during these difficult times.
"I'd like to thank all the Canadian people. You've been beside us," Poroshenko said. "A large step has been taken today – an agreement on the free trade area has been signed. This is the commitment to lift 99% of customs barriers to mutual trade within seven years. These offer new opportunities to expand sales markets. We will continue negotiations to expand the scope of the agreement. "
The Canadian prime minister, in turn, noted that his discussions with the Ukrainian president have been extremely constructive. "The Canada-Ukraine Free Trade Agreement represents a significant milestone in the relationship between Canada and Ukraine. It will bolster our economies, spur innovation, and lead to long term benefits for the middle class and those working hard to join it," Trudeau said.
In 2015, Canada and Ukraine announced the conclusion of the Canada-Ukraine Free Trade Agreement (CUFTA) negotiations.
Ukraine offers numerous opportunities for Canadian businesses and investors, in areas such as information and communication technologies, agriculture, infrastructure and logistics, aerospace, defense and security, as well as energy.
In 2015, bilateral trade between Canada and Ukraine increased by 13.9% over 2014, totaling almost $278 million. Additionally, Canada's exports to Ukraine totaled over $210 million in 2015. Examples of products imported by Ukraine include pharmaceuticals, fish and seafood, and coking coal.
Canada's merchandise imports from Ukraine totaled more than $67 million in 2015. Major imports included fertilizers, iron and steel, and anthracite coal.
With the agreement having been signed, Canada and Ukraine will submit the documents to their respective domestic legislative processes to ratify and implement the agreement.
Canada's International Trade Minister, Chrystia Freeland, and Ukraine's First Deputy Prime Minister and Minister of Economic Development and Trade, Stepan Kubiv, also signed the Agreement in Kyiv during Prime Minister Trudeau's first official visit to Ukraine.
Read alsoCanada to help Ukraine boost exports, investment"Canada and Ukraine know that trade is essential to jobs and growth. By improving market access and creating more predictable conditions for trade, the Canada-Ukraine Free Trade Agreement will generate new opportunities for Canadians and Ukrainians alike," Freeland noted.
On June 20, Toronto hosted the Ukrainian-Canadian business forum, which brought together more than 400 participants. A Ukrainian governmental delegation, headed by Kubiv, reviewed the Ukrainian government's most important accomplishments in recent months, as well as plans for further deregulation and privatization.
If you see a spelling error on our site, select it and press Ctrl+Enter