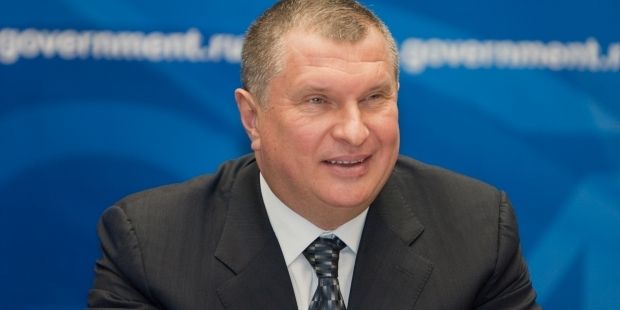 Igor Sechin / Photo from Wikipedia
His comments underline how difficult it is for Russia to get its oil companies to freeze or cut output as part of a potential deal with the Organization of the Petroleum Exporting Countries designed to support oil prices, Reuters wrote.
President Vladimir Putin told an energy congress on Monday that Russia was ready to join a proposed OPEC cap but did not provide the details.
Read alsoOPEC agrees modest oil output curbs in first deal since 2008"Why should we do it?" Sechin, known for his anti-OPEC position, told Reuters in Istanbul on Monday evening, when asked if Rosneft, which accounts for 40 percent of Russia's crude oil output, might cap its production.
Earlier on Monday, Sechin told reporters that Rosneft planned this year to raise its oil production, already the world's largest among listed producers, above the 203 million tonnes (4.1 million barrels per day) it produced in 2015.
Read alsoBloomberg: Rosneft surpasses Gazprom as Russia's most valuable companySechin said he doubted some OPEC countries, such as Iran, Saudi Arabia and Venezuela, would cut their output either: "Try to answer this question yourself: would Iran, Saudi Arabia or Venezuela cut their production?"
OPEC's oil output is likely to reach its highest in recent history in September, as Iraq boosted northern exports and Libya reopened some of its main oil terminals.
Sechin has long argued that any oil price increase as a result of joint actions by OPEC and non-OPEC members will allow the United States to resume production growth from high-cost shale deposits.
"The Americans want it most ($50 per barrel) as the shale oil projects become profitable with such a price. And $60 (per barrel) will result in more shale oil projects," Sechin told Reuters.