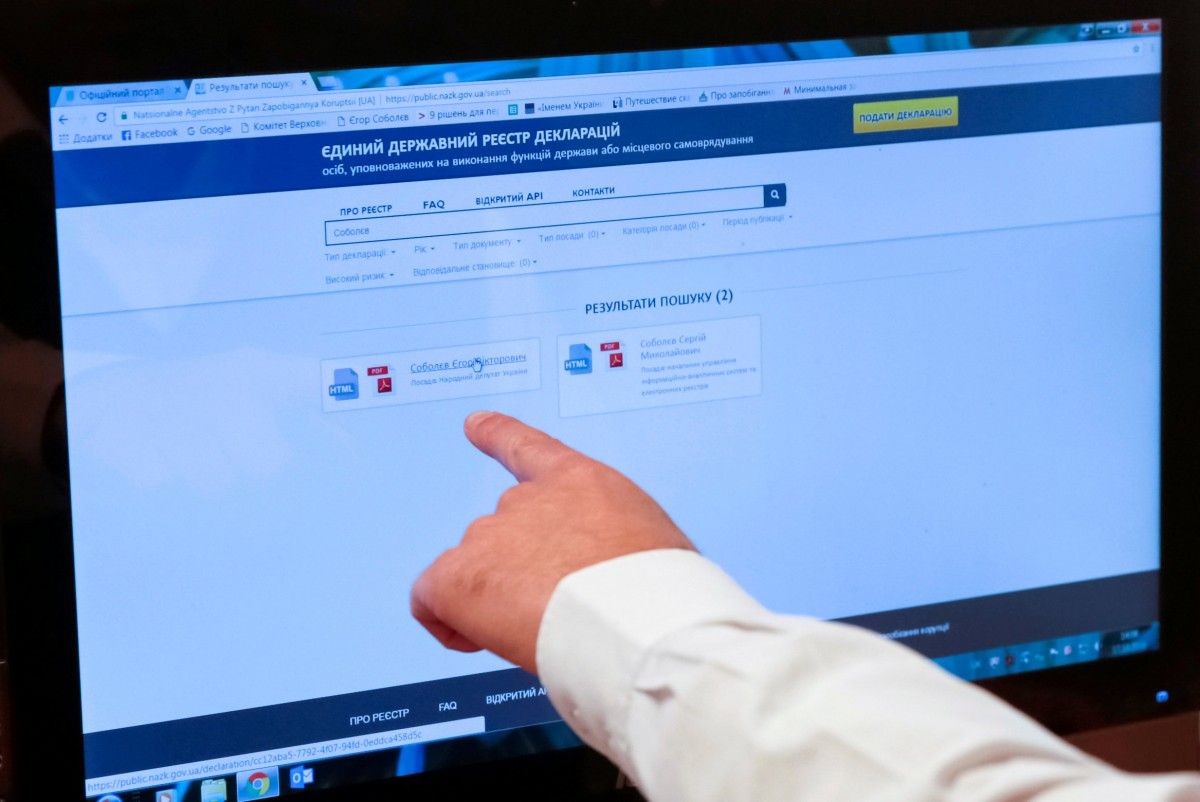 REUTERS
The tool eventually got off the ground in October. But this handed the NAZK a more formidable task -- to sift one-by-one through more than 100,000 forms submitted by politicians or senior civil servants and to find evidence of ill-gotten gains or tax evasion, according to Reuters.
Pro-reform activists and lawmakers doubt the "little bird" has the resources or commitment for the job at a time when Ukrainian authorities are trying to convince Western donors they are paying more than just lip service to reform promises.
The International Monetary Fund, which supports Kyiv with a $17.5 billion bailout that is partly contingent on Ukraine tackling entrenched graft, wants to see corrupt high-level officials held to account.
But Ukrainian authorities have a patchy record on that score, and the wealth-declaration reform has been criticized by some lawmakers who want it either watered down or delayed, raising fears that it could prove toothless.
"It will be simply impossible to check the declarations by hand. Too few people work there. I will be very surprised if NAZK itself is able to do anything," said Vitaliy Shabunin, head of the non-governmental Anti-Corruption Action Center.
Read alsoUkrainian anticorruption activists dare 'sissy pants' officials to declare assets - RFE/RLThe agency employs 36 people, who, lacking a unified database, must manually cross-reference each declaration with separate property and tax registries - a Herculean task considering many forms run to dozens of pages, listing millions of dollars in cash, fleets of luxury cars and tracts of land.
NAZK chief Nataliya Korchak was quick to play down expectations about fast breakthroughs in investigating the officials' wealth.
"We don't live in America, where from films we see that you can press a button and all the information is there from all databases. That's still in the future," she said.
The agency had not been provided with enough money this year to build a system capable of automatically accessing all registries, she said, but work would start on improving the software next year if a budget increase is approved.
Read also"No collapse to ensue": Ukraine's Finance Minister says no urgent need for IMF moneyUkraine's 2017 draft budget allocates UAH 578 million ($22.4 million) to NAZK. If approved, this would amount to a 40 percent increase in funding for the agency next year, according to Reuters calculations.
However, others point to the botched first launch of the online declarations database in August as a sign of the incompetence of the agency's management.
The disbursement of a long-delayed $1.3 billion loan from the International Monetary Fund depended on a successful launch. But when the mid-August deadline arrived, the system lacked the required security certification, which some saw as a deliberate attempt to sabotage the system.
"We have a lot of questions to the leadership of NAZK," the head of Transparency International Ukraine, Yaroslav Yurchyshyn, said.
"They have a passive attitude. They have an ability to find 40 explanations why it will fail instead of one mechanism to achieve results," he told Reuters.
Read alsoUkraine's chief taxman declares $1.16 mln, EUR 450,000 in cash for 2015The justice ministry, which must approve NAZK's plan for investigating the wealth declarations, sent back its initial proposal as unrealistic.
Activists Shabunin and Yurchyshyn say the system could still work provided civil society groups and journalists supplement NAZK's work by drawing the attention of anti-corruption investigators to the most heinous examples of graft or dishonesty on the database.
The fact that the success of a keystone anti-corruption drive could hinge on the work of non-governmental groups rather than state bodies could fan domestic and foreign concerns over the authorities' will to move on from the corrupt practices that nearly bankrupted the country.