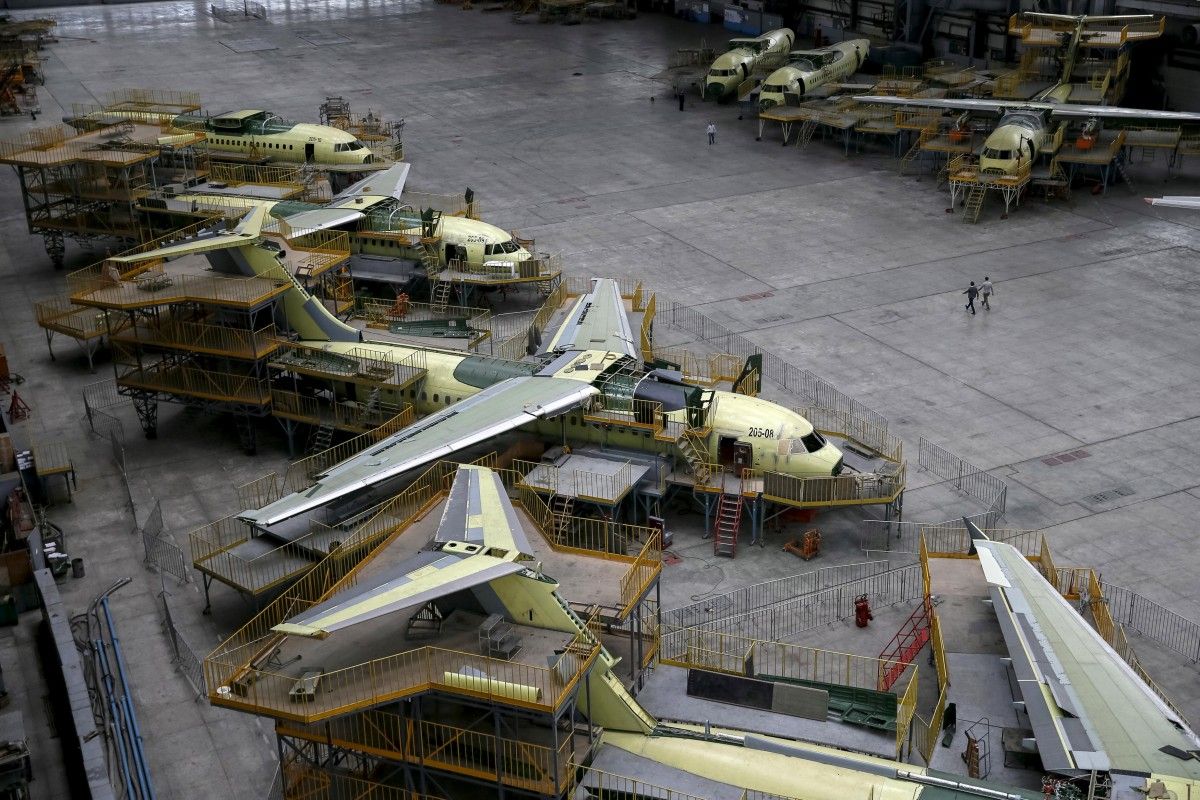 An illustrative image / REUTERS
These issues were on the agenda of a meeting between Ukroboronprom's top managers and British Secretary of State for Defence Michael Fallon in Kyiv on January 20, the press service said.
As part of his trip, Fallon visited state-run Antonov's facility that assembles its new AN-132 plane, using British components.
"The Defence Secretary also spoke about how the UK is a partner in prosperity with Ukraine. He met with staff of the Antonov National Company, the Ukrainian aircraft manufacturers company. British equipment from operations in Afghanistan and now in Iraq has been transported using Antonov aircraft and Dowty Propellers, based in the UK, has started component deliveries for propeller systems that will equip a demonstrator for the company's new An-132 twin-engine transport aircraft," the British Ministry of Defence reported in turn.
Fallon also said that the United Kingdom stands firmly alongside Ukraine as the British Army prepares to broaden its already extended training package to all of the country's armed forces and the UK is beginning to deliver training to Ukraine's Air Force as well as its Army and Navy.
"Meeting with Defence Minister of Ukraine, General of the Army Stepan Poltorak, the Defence Secretary confirmed that the UK's short-term training teams will have trained 5,000 members of the Ukrainian Armed Forces by the end of March – 1,000 more than initially planned - and will now continue in their training role for another year," the British Ministry reported.
During his visit, Fallon met with Ukrainian veterans to hear first-hand how the UK's training provides vital support for the UAF. In December he confirmed that the training programme, named Op Orbital, would be extended meaning UK forces will be in the country until at least 2018. As the UK extends its training, a new regiment – 4 SCOTS – will take over dedicated delivery of the infantry short-term training.
Read alsoUkraine unveils brand-new cargo aircraft (360-degree video)As UNIAN reported earlier, state-run Antonov enterprise, the only Ukrainian designer and manufacturer of cargo and passenger planes, presented the prototype of the An-132 transport aircraft on December 20.
Antonov has already signed a number of contracts with Saudi Arabia on shipments of this model from 2017, as well as on the joint design and production at an aircraft plant in that country where the serial production of the An-132 is to be launched.
Antonov said Saudi Arabia was ready to buy 80 aircraft.