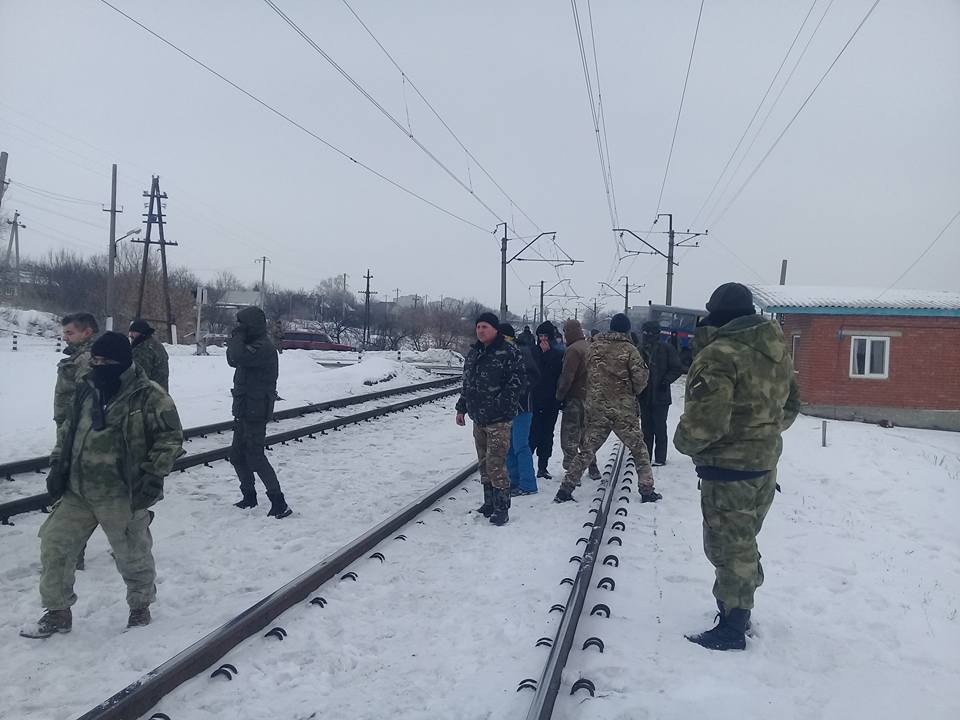 facebook.com/shtab.blokady
For six weeks, dozens of combatants have mounted an expanding blockade of rail lines carrying coal from those regions to the rest of Ukraine. They are protesting over a trade across the front lines that, with 10,000 killed in the conflict, one of their leaders has said is "tainted with blood," FT reported.
In retaliation, leaders of the separatist "people's republics" of Donetsk and Luhansk last week moved to take over management of 40 Ukrainian-registered enterprises in their regions, including several owned by Rinat Akhmetov, the country's richest oligarch.
Yet with cheap eastern coal vital for Ukraine's power generation and huge steel industry, Mr. Groysman has warned that if the blockade stopped the trade for good, it could cost the country $3.5bn and up to 75,000 jobs.
Three years into the conflict, the blockade has brought a dilemma for Kyiv into sharp focus. Should it preserve economic links with the breakaway regions, supporting jobs for thousands of Ukrainians on both sides of the lines but helping prop up the separatist leaders? Or should it sever them and risk driving the regions deeper into the embrace of Russia?
Read alsoZakharchenko "burning bridges": declares own "trade blockade" of Gov't-controlled areas"We should recognize as a country that we cannot afford to be dependent economically on the aggressor," said Viktoria Voitsitska, a pro-western opposition MP. Her Samopomich (Self-Reliance) party is sponsoring legislation that would do what Kiev has so far shied away from: officially recognize the eastern regions as Russian "occupied territories" — as it has with Moscow-annexed Crimea — and so cut economic ties.
A senior presidential official counters that Ukraine should keep doing business with the east. "These are our citizens," he said. "We need to fight for the hearts and minds of those people."
With the blockade cutting three of the four working railway junctions carrying goods to and from the east, the implications are serious. Seven of Ukraine's 15 thermoelectric power stations can only burn anthracite coal, mined exclusively in the east, without expensive retooling.
Steel output fell 19 per cent in February from January, and several mines and steel plants in separatist regions were forced to stop production as coal movements to, and iron ore shipments from, Ukraine-controlled areas were halted.
Read alsoDonbas blockade organizers announce "second phase," proceed to blocking motorwaysValeria Gontareva, Ukraine's central bank governor, warned last week that if the blockade continued for the rest of the year, it could halve forecast economic growth of 2.8 per cent. But if Kyiv tries to lift the blockade by force, it risks clashing with its own war veterans.
The government instead tried to defuse the situation with a resolution last week that limited cross-frontline trade to food for humanitarian aid and goods needed by metals, mining and energy businesses. But instead of calling off the blockade, protesters reportedly expanded it by blocking a motorway.
Leaders of the separatist republics, who set a March 1 deadline for Kyiv to lift the blockade, have now moved to establish "external management": of Ukrainian-registered businesses — a step Moscow said was "understandable."
One person with knowledge of Mr. Akhmetov's businesses said the separatists had not taken control but only "paid visits" to the plants. If the rebel leaders did take over businesses in their territories, these would come under the Kyiv and international sanctions regimes and Ukrainian and other companies could no longer legally trade with them.
Closing the enterprises would put tens of thousands of workers out of jobs, risking social unrest in regions where unemployment already tops 50 per cent.
Businesses affected might be able to sell their goods to Russia, although demand is unclear. President Vladimir Putin announced last month that Russia would recognize all documents, including passports and identity papers, issued in Ukraine's rebel republics, which could facilitate trade.
Such a move could hit revenues and profits at Mr. Akhmetov's Metinvest metals group and DTEK, his energy holding. Kyiv would also lose tax revenues — Mr. Akhmetov's businesses alone paid 31bn hryvnia ($1.15bn) into Ukraine's budget last year.
Despite the prime minister's warnings, opinion is mixed on how serious an impact the blockade and its fallout will have on the wider Ukrainian economy. One senior international financial official suggests the country's anthracite coal could relatively easily be replaced with imports. The government had already brought electricity and coal prices in recent years closer to international market rates, he said.
But at the Akhmetov-owned Avdiyivka coke plant, close to the front line with the separatist east, director Musa Magomedov says the blockade is "bad for Ukraine."
Importing coal would raise costs and make Ukraine's industry less competitive — including against the very country that fomented the eastern conflict — he said.
"We will have high operating costs. We have lots of competitors. The Russians are our competitors — we're battling for the same markets."