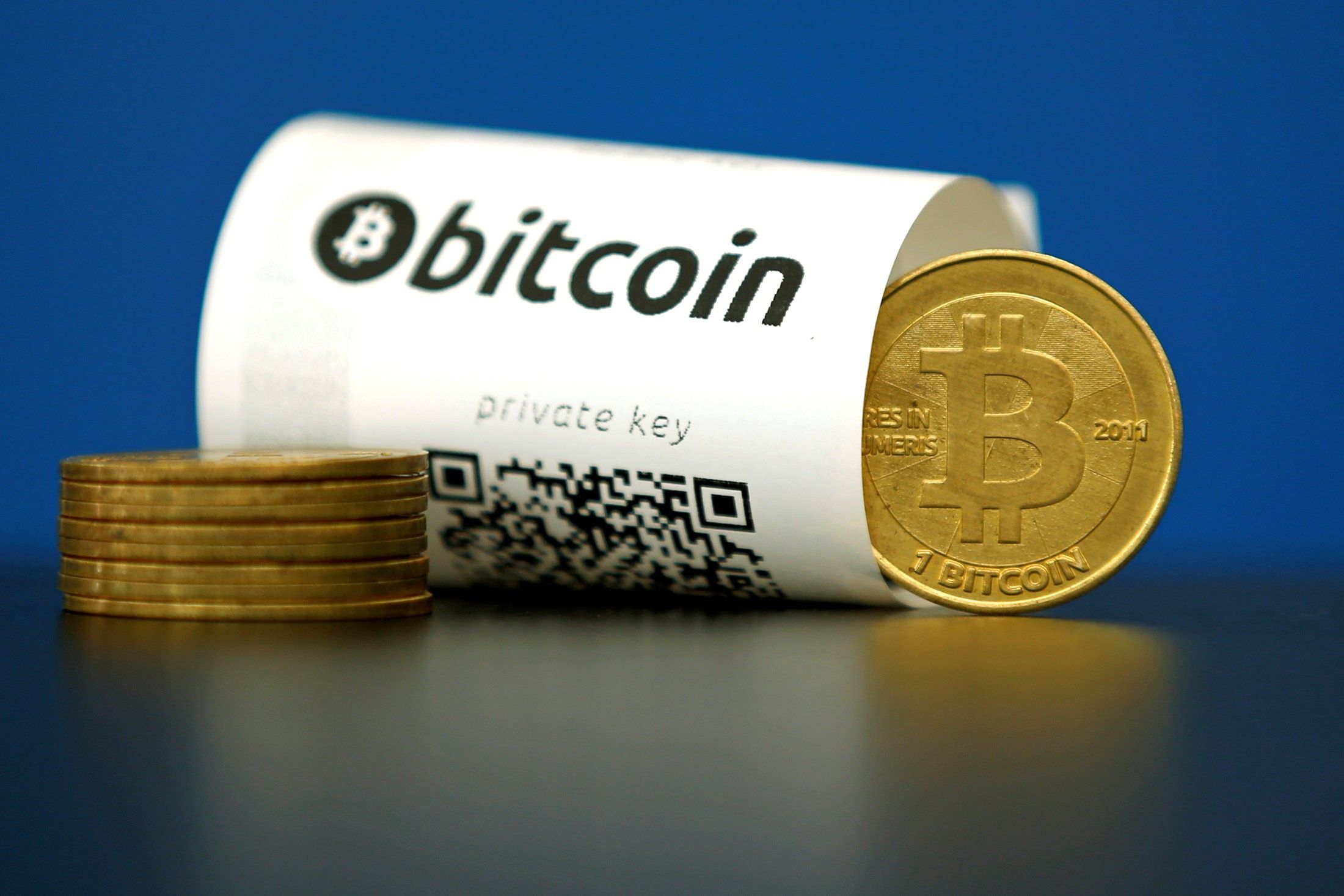 REUTERS
Bitcoin is based on so-called "blockchain" technology, a "centralized but decentralized" concept that helps the currency simultaneously balance security, anonymity and fiscal stability. The blockchain is "centralized" in that it serves as a ledger by which digital transactions—say, sending a single bitcoin to an online vendor—are tracked to ensure that, for example, the bitcoin is actually yours and not a digital copy, Forbes reports.
But the ledger is also "decentralized," in that it's distributed widely and open to the public, allowing no single party or group to game the system. The result is an ostensibly open, transparent system of currency.
Ukraine has been nothing short of passionate in its embrace of bitcoin, with many citizens using the currency as a hedge against extreme inflation and an unstable hryvnia that has lost 80% of its value amid ongoing turmoil. In 2014, nearly 5,000 BNK-24 ATM terminals nationwide began offering the option to buy bitcoins for cash as effortlessly as one would conduct any other automated banking transaction. Last year saw one Ukrainian bitcoin-selling service report a five-fold increase in demand, and the country also became the first regulated market in the world to begin offering futures on bitcoin contracts.
Read alsoDemand for bitcoin in Ukraine grows fivefold - mediaBut perhaps most notably, the Ukrainian government has sought to apply the promising technology's tell-tale transparency to its process of auctioning state property. In 1991, when the Soviet Union collapsed, Ukraine underwent a sort-of "revolution without a revolution." The same basic, established power structures remained in place, despite an ostensibly more democratic government that had, in reality, done little more than change the titles on its business cards.
Last July, at a blockchain-related conference in Odesa—one of two Ukrainian bitcoin conferences held in 2016, both of which drew sellout crowds—Minister of Finance Oleksandr Danyliuk laid out plans to move the auction process from a paper-based system to the new blockchain-based "Auction 3.0" system, thereby ensuring transactions would be public and fully transparent. The efficiency of the system—which represents one component of a "Cashless Economy Project" undertaken by the National Bank of Ukraine slated to run through 2020—promises a number of additional benefits, including significant cost savings and a dramatic decrease in the bureaucracy needed to run the system.
The timing of this dramatic rush toward digital currencies is not without a certain sad irony. Ukraine is perhaps the nation most singularly affected by the foreign policy shifts following the election of President Donald Trump. Trump's unabashed willingness to cozy up to Russia, whose ongoing military presence in Ukraine underlies many of the nation's economic woes, represents a waning opportunity for Ukrainians who had hoped for a more hard-line stance from the United States. With a long history of Westward-reaching diplomacy, even under Soviet rule, the country became the third-largest recipient of American foreign aid by the end of the 1990s, despite only achieving independence in 1991.
Read alsoNBU strengthens official exchange rate to UAH 26.88 to dollarThus even as the idealized ally upon which Ukraine modeled its very constitution finds itself rushing headlong into that which Ukraine has long sought to flee, Ukraine's commitment to blazing new trails in the name of transparency represents a commendable example for an American political sphere increasingly marked by intentional obfuscation and "alternative facts."