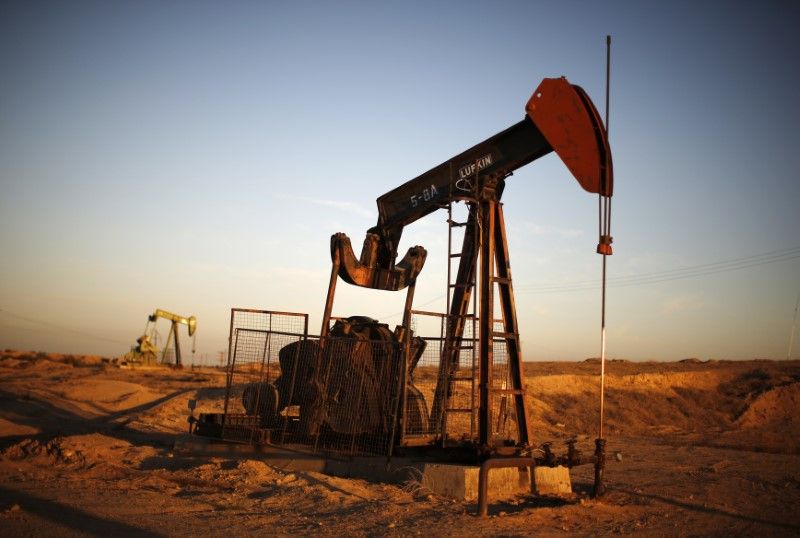 REUTERS
Brent crude futures LCOc1, the international benchmark for oil, were at $54.77 per barrel at 0354 GMT (11:54 p.m. ET), down 12 cents from their last close, Reuters reported.
U.S. West Texas Intermediate (WTI) crude futures CLc1 were down 9 cents at $52.32 a barrel.
"Crude oil prices were slightly weaker as the focus turned back to U.S. inventories and output," ANZ bank said on Wednesday.
Data from the American Petroleum Institute (API) on Tuesday showed that U.S. markets remained bloated.
Although crude inventories fell by 840,000 barrels in the week to April 14 to 531.6 million barrels, still close to record highs, gasoline stocks rose by 1.4 million barrels as refinery crude oil runs increased by 334,000 bpd, the API said.
Official U.S. oil data is expected to be published later on Wednesday by the Energy Information Administration (EIA).
Outside the United States, a fall in Saudi output as part of its planned production cuts for the first half of this year lent the market some support.
The Organization of the Petroleum Exporting Countries (OPEC), of which Saudi Arabia is the de-facto leader, together with other producers like Russia have agreed to cut output by almost 1.8 million barrels per day (bpd) during the first half of the year to rein in a global fuel supply overhang and prop up prices.
Saudi crude exports fell to 6.96 million bpd in February, from 7.7 million bpd in January, according to the Joint Organisations Data Initiative (Jodi).
However, Saudi production rose to 10 million bpd in February, up from 9.75 million bpd the previous month, the Jodi data showed, as domestic refiners processed more crude oil.
This means that the Saudi oil may still make its way into a glutted global market as significant proportions of its refined fuel products are exported.
Read alsoHouse reauthorizes Iran sanctions bill, sets Syria sanctionsIn politics, U.S. President Donald Trump has ordered an inter-agency review of whether the lifting of sanctions against Iran under a 2015 nuclear deal was in the United States' national security interests, Secretary of State Rex Tillerson said late on Tuesday.
Many U.S. sanctions against Iran were lifted in late 2015, allowing Tehran to boost its crude oil exports from 2016 which added to the global glut.