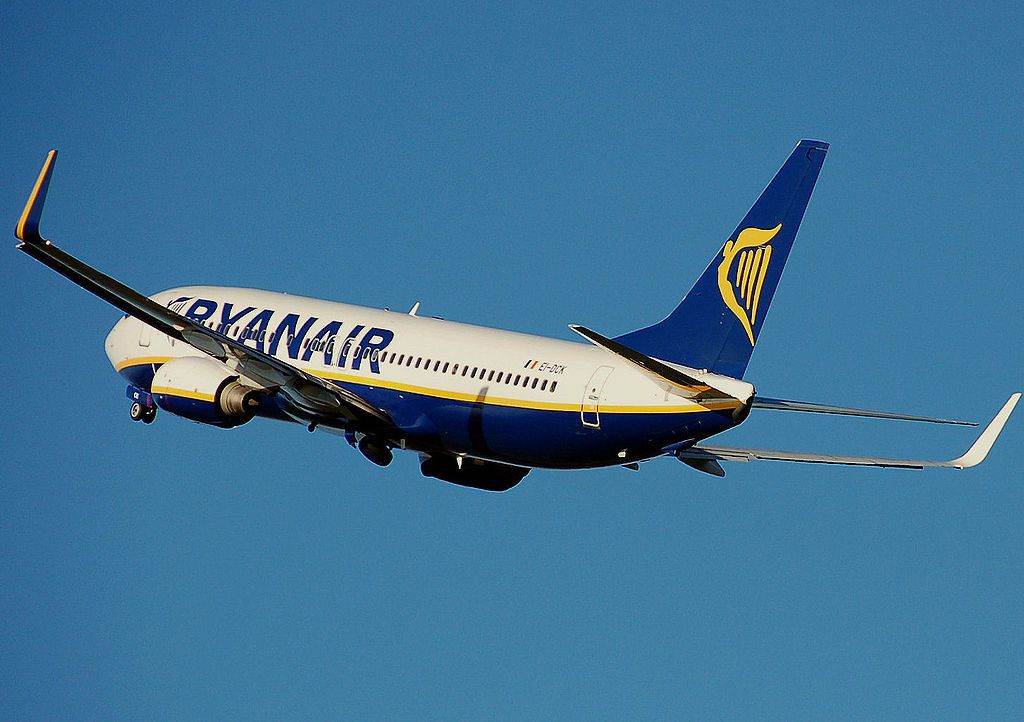 wikipedia.org
It would have helped Ukrainians take advantage of the visa-free travel they were recently granted by the EU – and shown that Ukraine, three years on from its pro-democracy revolution, is ready to attract much-needed investment. Instead, the opposite happened, FT reported.
Ryanair last month canceled its plans, accusing Kyiv's main Boryspil airport of "failure to honor a growth agreement".
In a blow to the authorities, Ryanair's chief commercial officer David O'Brien said that the airport had "demonstrated that Ukraine is not yet a sufficiently mature or reliable business location to invest valuable Ryanair aircraft capacity".
The budget airline accused Kyiv of choosing to "protect high-fare airlines (including Ukraine International Airlines)", the country's largest carrier.
Local media and pro-reform MPs pointed the finger at UIA, the dominant airline at Boryspil, and its co-owner Igor Kolomoisky, one of Ukraine's wealthiest oligarchs, for allegedly managing to torpedo the deal. Ukrainian social media exploded with angry comments.
The failure probably matters more to Ukraine than to Ryanair. Kyiv officials desperately need to attract foreign investment to encourage growth as the country emerges from the economic slump that followed the 2014 revolution and Russia's annexation of Crimea. Wooing the low-cost carrier would have been a much-needed boost.
Ryanair's plan to open four routes to Kyiv and seven to Lviv would have involved only 1 per cent of its capacity. Even so, it would have taken the airline into a 45m-strong market where air travel is growing fast from a low base.
Both the EU visa-free agreement and economic recovery offer the prospect of continuing rapid growth towards west European levels.
Although accounts differ over exactly why the talks failed, it is clear that Ukraine's corporate and state officials handled the situation badly.
Read alsoOmelyan explains why Ryanair may not enter Ukraine market this yearRyanair thought it had a deal with Kyiv's privately owned second airport, Zhuliany, to which Hungary's low-cost Wizz Air already flies.
When that fell through at the last moment, Ukraine's infrastructure minister, anxious to find a way to allow Ryanair's plans to go ahead, signed a letter of intent involving state-owned Boryspil, instead.
Kyiv officials say that committed Pavlo Ryabikin, Boryspil's director, to terms he could never have agreed to as they would have undermined the airport's commercial model.
Mr. Ryabikin has revealed some details of the collapsed deal and called them untenable, including a five-year passenger fee for Ryanair of $7.50 per traveler that he said was below cost, well below what it charges other airlines, and would have left it with big losses.
Other people familiar with the talks say that Mr. Ryabikin was present when the letter of intent was signed and raised no objections.
Some airline executives suggest that Boryspil, as Ukraine's premier airport, is underperforming, partly because of its role as a hub for UIA, and it might be no bad thing for it to change its model.
UIA denied last month that it had lobbied to prevent the Ryanair deal, insisting that it would welcome the low-cost carrier's arrival to "provide an impetus to infrastructure development".
But it later filed a lawsuit against the infrastructure ministry, claiming that its letter of intent with Ryanair violated the law as well as discriminating against UIA and threatening the development of air transport in Ukraine.
Boryspil is now re-evaluating its model with the aim of reducing passenger fees to all airlines – in what could provide a route to reopening talks with Ryanair.
The government is making the right noises, insisting that it is committed to investigating why the Ryanair deal failed and to luring low-cost carriers. It has suggested upgrading Gostomel, a cargo airport near Kyiv that is a base for Antonov, the aircraft manufacturer, with a terminal for low-cost airlines.
It is not too late for Ukraine to snatch victory from the jaws of defeat and find a way to entice Ryanair.
If it can, the airline's jibe about Ukraine not yet being a reliable business destination could be quietly buried.
Ukraine's aspiring tourists and all those who support its attempts to curb corrupt leadership and integrate more closely with western Europe will be hoping that a solution can be found.