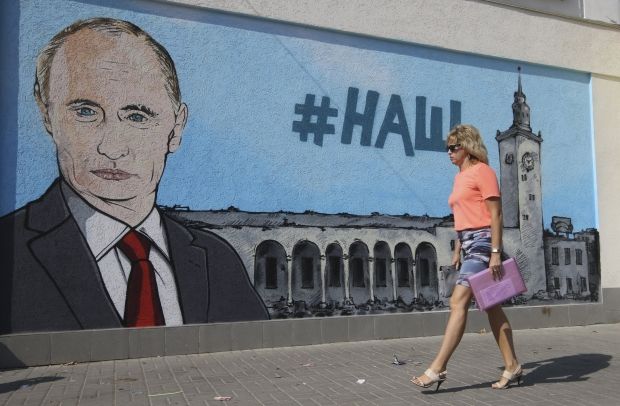 REUTERS
However, while Crimea has already seen protests over unpaid wages, plans to resettle hundreds of Crimean families, and mass legal charges against local citizens over land plots they had received before the Russian occupation, Hromadske International's investigation into the asset declarations of prominent Crimean separatist "officials" shows that, since joining Russia, many of them are living extremely well.
In October 2013, Speaker of the Crimean Parliament Vladimir Konstantinov had been knocked off the list of wealthiest Ukrainians. Bankruptcy procedures were beginning against "Console," the main structure in his construction company. At the time, he owed around $38 million to Ukrainian banks.
Then, in 2014, Konstantinov pledged allegiance to Russia and played an active role in Russia's occupation of Crimea. This allowed him not only to rectify his financial situation, but also to make a huge profit. In 2014, he declared a salary of around $42,000 per year. Then, in 2015, it rose $151,000. In 2016, he earned a new record income of $1.4 million.
Read alsoCrimea's de facto head Aksyonov calls to establish monarchy in Russia
Sergey Aksyonov, who had long supported Crimea rejoining Russia, became the "Prime Minister" of Crimea February 28, 2014, after a group of armed men without insignia stormed the Crimean parliament. His official income for 2016 was just over $42,000. But Aksyonov's declaration also includes information about his wife Elena's assets.
Last year, she earned 13 times more than her husband — around $560,000. Elena Aksyonova's declaration also includes three flats and six non-residential properties, as well as a BMW.
After the Crimean annexation, Nataliya Poklonskaya, Russian Federation State Duma Deputy (and internet celebrity), gained fame as the self-proclaimed "Prosecutor General of the Republic of Crimea" and, oddly, as an internet meme in Russia and East Asia. She then went to the Russian State Duma in the name of fighting corruption. In her capacity as a Russian parliamentarian, she has headed the commission charged with verifying the truthfulness of other parliamentarians' asset declarations. In March 2017, she encouraged her colleagues to fill out declaration forms. Only two months later, her own declaration wound up at the epicenter of a scandal.
Read alsoU.S. sanctions six Duma MPs in relation to Crimea occupationThe document contains no mention of Poklonskaya's husband, who she has discussed on social media, and no mention of vehicles or real estate. All that Poklonskaya's declaration includes is the notion that her salary has increased from around $34,000 to $42,000 per year, and that she resides in two state-owned apartments. One of these apartments is in Moscow. The other, in Simferopol, was purchased for Poklonskaya by the "Prosecutor General's Office of Crimea." But she resigned from the position of "Prosecutor General" last year. Since then, she no longer has the right to use the Simferopol apartment.
In an interview with Russian media, Poklonskaya presented evidence that she signed over her Hyundai Solaris to her father in 2015. However, if you look at her declaration for 2014, when she was already the Crimean "Prosecutor General", there is no information about any car.
Read alsoTraitors of Ukraine from Crimea's task force killed in DagestanTransparency International's Russian office conducted its own investigation and found a property likely belonging to Poklonskaya, which she did not mention anywhere in her declaration. That property is an apartment in Donetsk registered under her maiden name, Dubrovska. Nataliya Poklonskaya has not only tried to refute this information, but has also appealed to the Transparency International's Russian office several times.