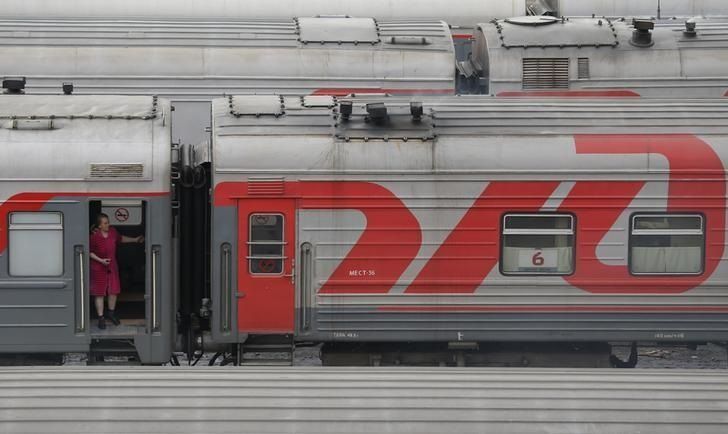 REUTERS
"Isolation from emerging east-west connectivity could be one of the most enduring and most damaging consequences of the war for Ukraine, one that both Kyiv and its western partners need to pay more attention to overcoming," Deputy Director and senior fellow with the Center for Strategic and International Studies (CSIS) Russia and Eurasia Program Jeffrey Mankoff and Director the Reconnecting Asia Project at CSIS Jonathan Hillman wrote in the article titled "Russia seeks to close Ukraine's window to the west," published by the FT on Wednesday, September 6.
Not long ago, Ukraine hoped to become a major gateway along China's Belt and Road, a massive connectivity initiative stretching across Eurasia and beyond.
"The idea of the Great Silk Road will be actively supported by Ukraine," then-President Viktor Yanukovych said during his visit to Beijing in 2013. Agreements promising $8bn in Chinese investment were signed, including a $3bn port in Crimea. But those deals were among the casualties of the armed conflict that erupted in early 2014.
So too were many existing connections between Ukraine and Russia, which were either damaged in the fighting or deliberately severed as a form of economic pressure.
Ukraine's conflict also disrupted internal connections between separatist-held regions of Donetsk and Luhansk oblasts and the rest of the country. In the early days of the fighting, separatist forces targeted critical infrastructure in eastern Ukraine.
A UN assessment in November 2014 found that 53 bridges, 45 road sections, and 190 railway facilities had been damaged. Altogether, infrastructure losses were estimated at $440m, and while some repairs have been carried out, funding constraints and security challenges have limited reconstruction.
The toll has been highest for people living in disputed territory, where neither Kyiv nor Moscow is eager to assume the financial burden of governing. Near the contact line, once-routine movements are inefficient and even perilous. In the Luhansk oblast town of Stanytsia Luhanska, which was temporarily captured by pro-Russian separatists, elderly residents must struggle across a damaged bridge that separates territory controlled by rival forces. In government-controlled territory, protesters have blockaded railways, disrupting coal shipments and other trade.
For both sides in the conflict, altering patterns of trade and transit is a means of shaping Ukraine's political and economic destiny. While military forces have destroyed critical infrastructure such as bridges and railways, the governments in both Kyiv and Moscow are building new connections that will re-orientate trade flows.
Russia's efforts to isolate Ukraine economically make it imperative for Kyiv to deepen trade and transit ties to the west. Some Ukrainian trade has already shifted from Russia to the EU, which received 37 per cent of Ukraine's exports in 2016, up from 25 per cent in 2012. That figure should continue to rise following the ratification of the EU-Ukraine Association Agreement by the European Commission in July 2017. Yet even as the volume of Ukraine's exports to the EU increased, they also declined in value. The shift has also favoured exports of agricultural products, while manufactured goods have suffered, since few of Ukraine's industries are competitive inside the EU.
To cope with reduced connectivity to its east, Ukraine and its European partners need to reinforce their efforts to promote connectivity to the west.
Infrastructure upgrades would help. Ukraine has one of the largest railway networks in Europe, but its rolling stock is ageing and needs to be replaced. Ukraine's ratio of highways to land, lags far behind its European peers, and most roads do not meet international standards. Ports handle the bulk of Ukraine's international trade and with grain exports at record levels, they could benefit from improved grain handling capacities. Factories must also be upgraded so that more products meet EU standards.
All of this will require investment, which means that Ukraine must get its own house in order. Kyiv has moved too slowly on reforms to reduce corruption, promote foreign investment (allowing foreign land ownership, for example), and privatise state-owned enterprises.
"As Russia's infrastructure projects underscore, the world is not sitting still. Ukraine's western window will not remain open forever," the authors concluded.