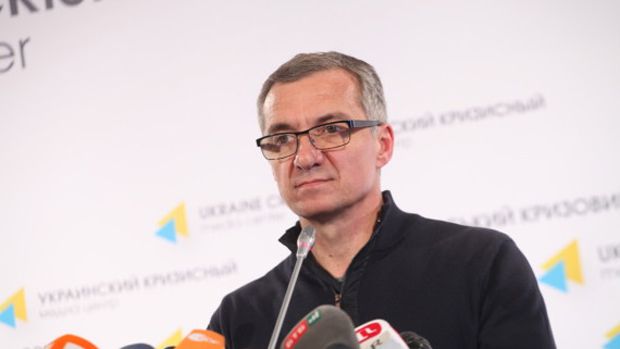 Oleksandr Shlapak says international donors should help restore the Donbas / uacrisis.org
"Unfortunately, today we have two 'Donbases .' Just concerning the areas that Ukraine controls, according to preliminary estimates, recovery will cost at least $ 2 billion," the minister said.
Shlapak said that an international donor conference to raise funds to restore the infrastructure of the Donbas was likely to take place in December , and would be held both in Brussels and in Kyiv.
 "The Ukrainian side will have a project ready," the minister said. He suggested that the money could be made available in the form of grants and loans, on the same terms as used by international financial institutions - 2% per annum for 10 years.
"That's what we can afford," Shlapak said.
 He said the funds would be used primarily to restore water, electricity and gas supply networks, and destroyed housing. In addition, the government is ready to help repair the region's industrial facilities.
 "We could begin to rebuild the Enakievskiy plant and Alchevsk plant, and the owners are even willing to participate in this. But at the moment there's no access to these plants, so until the opportunity appears, the answer is no," Shlapak said when asked about the prospects for rebuilding these plants.
Earlier, Deputy Prime Minister Volodymyr Hroisman said that the reconstruction work in the east of the country where anti-terrorist operations were being conducted would require about UAH 11.8 billion (about $850 million). It was also reported that the EU had promised to allocate money for the DNA examination of bodies and the restoration of damaged property in the Donbas.