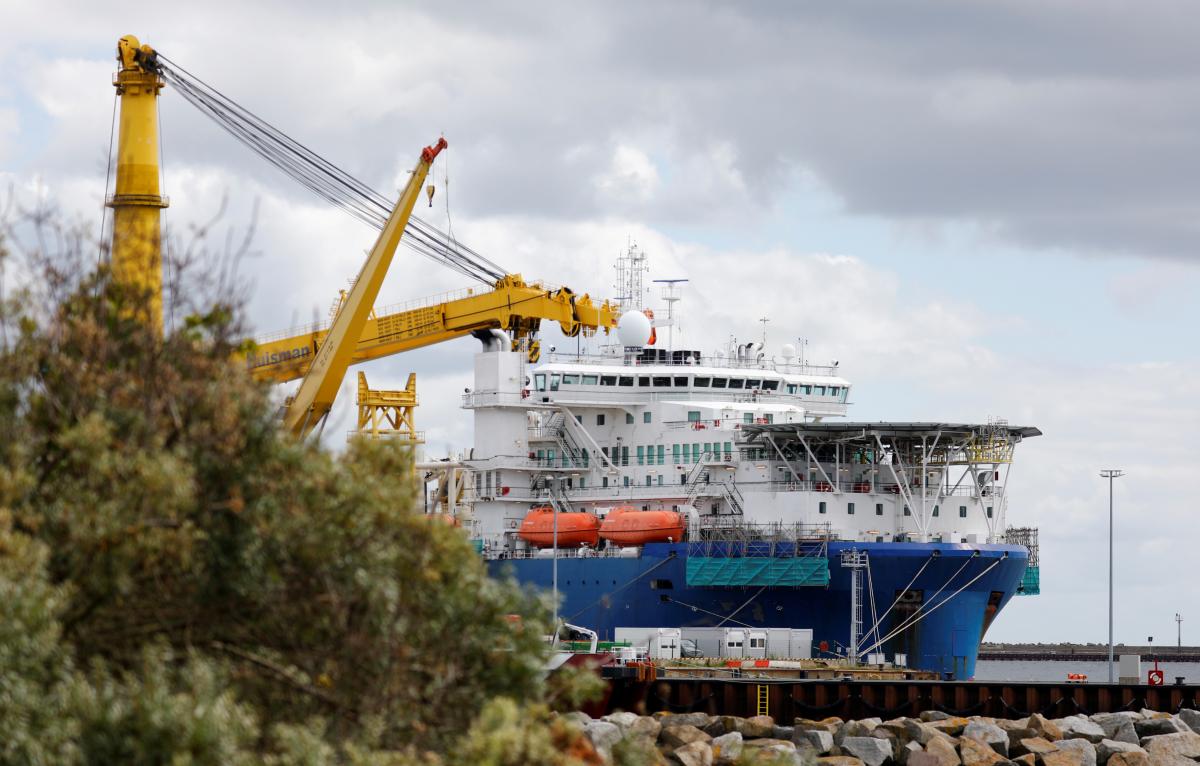 The Akademik Cherskiy vessel in Mukran Port / REUTERS
U.S. Senators Ted Cruz (R-Texas), member of the Senate Foreign Relations Committee, Tom Cotton (R-Ark.), and Ron Johnson (R-Wis.) on August 5 sent a letter to Fährhafen Sassnitz GmbH, which operates Mukran Port, alerting them to their exposure to sanctions related to the Nord Stream 2 pipeline project.
Mukran Port provides services to vessels that Russia has indicated will be used for the project, and reportedly stores pipes to be installed as part of the pipeline, Cruz said in a press release on his website.
Read alsoPoland fines Gazprom $57 mln over Nord Stream 2
"There is a bipartisan, bicameral, and intra-agency consensus in the United States government that has produced a range of sanctions authorities and mandates that will be leveled against any company that participates in the project," the press release said.
In the letter, the Senators wrote: "This letter serves as formal legal notice that these goods, services, support, and provisioning risk exposing Fährhafen Sassnitz GmbH and Mukran Port, as well as your board members, corporate officers, shareholders, and employees, to crushing legal and economic sanctions, which our government will be mandated to impose. These sanctions include potentially fatal measures that will cut off Fährhafen Sassnitz GmbH from the United States commercially and financially. The only responsible course of action is for Fährhafen Sassnitz GmbH to exercise contractual options that it has available to cease these activities."
They added: "Your provisioning of the Fortuna or Akademik Cherskiy will certainly have become sanctionable the instant that either vessel dips a pipe into the water to construct the Nord Stream 2 pipeline, or engages in any pipe-laying activity relevant to the project, but your exposure extends to any activities related to goods, services, or support of the pipeline. The law requires that 'the President shall' issue the designations."
In June 2020, Sens. Cruz, Jeanne Shaheen (D-N.H), Tom Cotton, Ron Johnson, and John Barrasso (R-Wyo.), introduced new legislation clarifying and expanding the sanctions of their bipartisan 2019 bill, the Protecting Europe's Energy Security Act, which advanced out of the Foreign Relations Committee with overwhelming support and was signed into law in the National Defense Authorization Act of 2020 last year. The new legislation clarifying these sanctions was also recently included in the Senate passed FY21 National Defense Authorization Act.
Mukran Port is the corporate master brand of Fährhafen Sassnitz GmbH with the following shareholders: the town of Sassnitz owns 90%, while Mecklenburg-Western Pomerania, a state of Germany, has 10%.
A spokesman for the company said that its management would not comment on the letter as its content was within the competence of the state and federal governments, according to Deutsche Welle's Russian service.