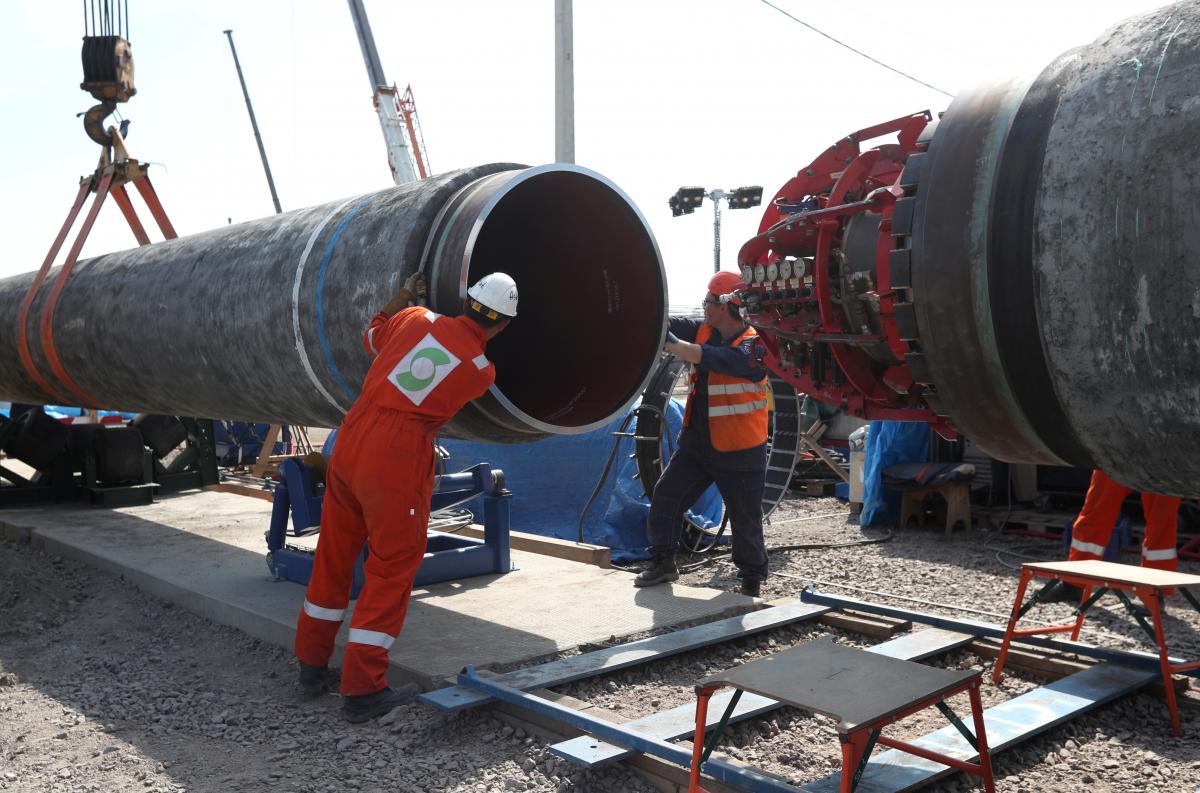 REUTERS
As Russian gas giant Gazprom seems tardy about paying up the US$1.5 billion fee imposed on it by the ruling of the Arbitration Institute of the Stockholm Chamber of Commerce, Poland's Deputy State Assets Minister Janusz Kowalski tells "Gazeta Polska Codziennie" daily that following in Ukrainian Naftogaz's footsteps of hard enforcement of due payments sounds like a good plan.
It was at the end of March 2020 that the Arbitration Institute of the Stockholm Chamber of Commerce ruled that the Russian gas giant Gazprom, the key gas provider of Poland, had overpriced its services and thus should return US$1.5 billion to the Polish Oil Mining and Gas Extraction (PGNiG). But even with the ruling in place, the Russian company behaves sluggishly and does not adhere to the new, legally enforced pricing of its gas delivered to Poland, as reported by POLAND IN.
Read alsoRFE/RL: Poland state gas distributor says it wins $1.5 bln from Russia's Gazprom in price dispute
Mr Kowalski points to Naftogaz's stance as a viable solution. "The case of Ukraine's Naftogaz, which won US$2.6 billion from Gazprom, showed that pursuing hardcore enforcement one can acquire payments due under a court order. Following a ruling to their advantage, the Ukrainians started taking over the Russian company's assets in Europe. Because this method proved efficient, we too are going to pursue it," said Deputy Minister Kowalski.
Gazprom seems unworried about the ruling and, as reported a week ago by PGNiG, keeps selling gas to Poland under the old price. In view of this, the PGNiG announced it was considering reporting the anti-competitive praxes of Gazprom to the European Commission.
Deputy Minister Kowalski argues that the fact of Gazprom disregarding the ruling proves that the Russian giant is not a trustworthy provider. Mr Kowalski also stressed that over the past 20 years Gazprom has been regularly violating gas delivery agreements with Poland.
"This time it should serve as a warning call for the EU, and Germany in particular, a warning against total dependence on the Kremlin," said the deputy minister, adding that "should 110 bcm of gas be delivered to European markets via the Nord Stream 1 and 2 pipelines in 10-15 years' time, it would imply that Kremlin has acquired a powerful tool to pursue its policies."
According to the provisions of the Yamal Contract and the final award, the new contract price determined by the Arbitral Tribunal should apply retroactively from November 1, 2014, i.e., from the date of the submission by PGNiG of its price revision request, a major breakthrough for the company, which had seen profits drop significantly in the last quarter of 2020.
According to the company's preliminary assessment, the retroactive settlement under the final award results in a price difference payable by Gazprom to PGNiG of approximately EUR 1.3 billion for the period from November 1, 2014, to February 29, 2020.