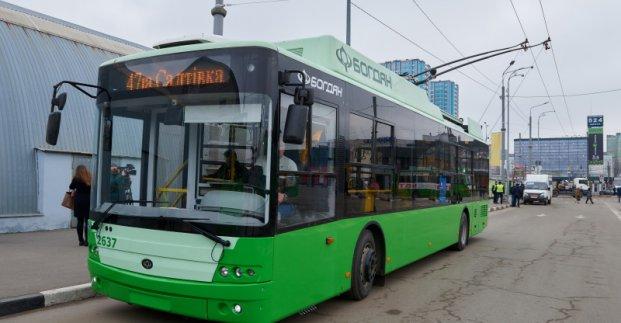 The new supply will include 12 two-section and 37 single-section trolleybuses / Photo from Kharkiv City Council
The European Investment Bank (EIB) is to provide a EUR 10 million loan for Kharkiv to purchase 49 new trolleybuses.
This will accelerate the renewal of the fleet with environmentally friendly and energy efficient electric vehicles in Kharkiv, the EU Delegation to Ukraine said on May 12.
This will be possible due to the participation of Kharkiv in the EIB's "Ukraine Urban Public Transport Project" (UUPTP).
Read alsoEU grants Ukraine EUR 6 bln for infrastructure projects
The UUPTP is a EUR 200 million framework loan for financing urban public transport investments in 11 municipalities in Ukraine. The Urban Public Transport operations are conducive to a decrease in road accidents via expected modal shift from private cars users to public transport and a reduction in the number of conjunctions in rural areas. The additional EU-funded technical assistance under this project contributes to assisting the Infrastructure Ministry and participating cities in restructuring and modernization of Ukraine's urban public transport sector and gradual approximation towards operating standards and policies comparable to those in the EU.
"Our priority is sustainable, long-lasting solutions for the comfort and safety of citizens. Improving the quality of public transport services which will reduce traffic congestion, as well as make public transport operation more environmentally friendly for residents of Kharkiv, the country's second largest city," Jean-Erik de Zagon, Head of the European Investment Bank in Ukraine, said.
The winner of the tender, Car Assembly Plant No. 1 subsidiary of PJSC AC Bogdan Motors, is to supply Kharkiv with 49 trolleybuses. The new supply will include 12 two-section and 37 single-section trolleybuses, one of the trolleybuses will be with the autonomous run for at least 20 km. These low floor trolleybuses will provide easy access for the elderly, disabled persons and passengers with baby carriage in public transport services in the city.
The EIB has been a partner of Ukraine in financing of public transport infrastructure projects since 2007. During this period, the EIB has signed financial contracts with Ukraine more than EUR 2 billion in various transport infrastructure projects in Ukraine. Eco-friendly, safe, sustainable electric transport means and its related transport infrastructure is the main priority of the EU bank.