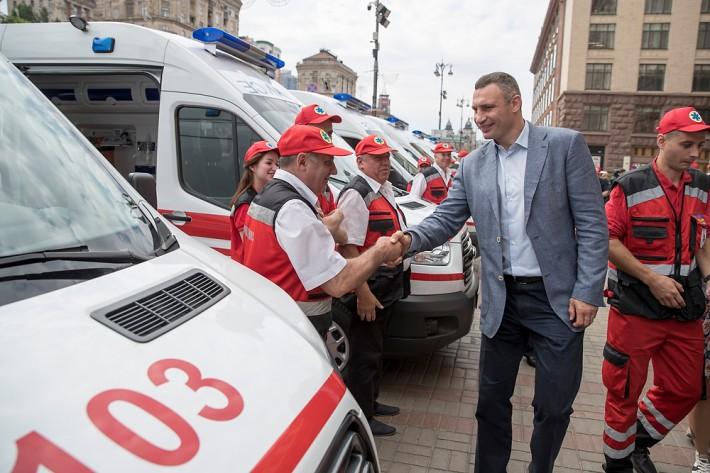 kiev.klichko.org
Kyiv Mayor Vitaliy Klitschko has handed over 24 new ambulances with modern medical equipment for the needs of Kyiv's emergency response service.
Among the presented vehicles is a specially equipped one, for the operative delivery of medications and vaccines. The auto module has a built-in refrigerator for storing medicines in low temperature conditions.
The total cost of the vehicles is over UAH 50 million. They are equipped with everything necessary to provide primary emergency care and modern equipment for surface diagnostics.
Read alsoVitali Klitschko honors brother in his Hall of Fame moment
"Such ambulances operate in Europe. There is everything in the new cars for comfortable work of both the driver and medical personnel, and for the comfort of patients. They are equipped with modern medical equipment. A European city should have European-level ambulances. I am very glad that we have found an opportunity to purchase this new, highly necessary equipment. And that every year we increase the fleet of such cars," the mayor said.
He recalled that during 2016 -2017, about UAH 40 million was annually allocated to finance the emergency response service in Kyiv. In 2016, the city handed over 100 ambulances to ER teams. In 2017, they received 15 special sanitary vehicles with modern medical equipment. In addition, capital and current repairs worth over UAH 5 million were carried out in the Center for Emergency Medical Care and Medicine of Catastrophes of the City of Kyiv.
Klitschko also congratulated health workers on their professional holiday –Day of Medical Worker celebrated June 17.
According to the mayor, the municipal budget lays down almost UAH 9 billion for health care in 2018, which is UAH 600 million more than last year. These funds will be spent on increasing the allowances for the capital's medical staff, for repairs at medical facilities, and purchase of new modern equipment and special vehicles.