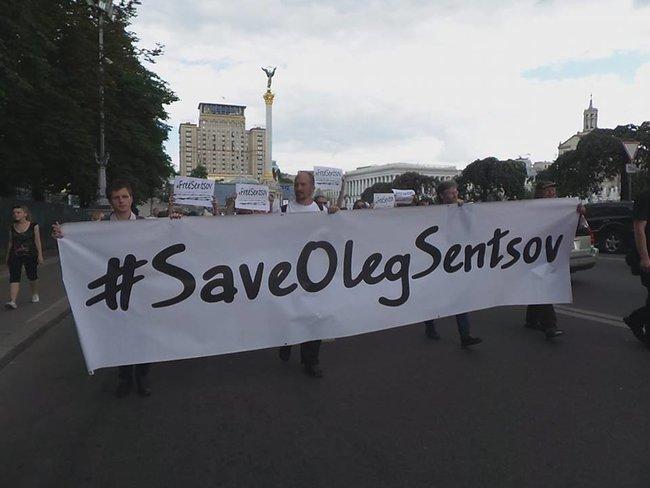 Pleh Bohachuk, Censor.net
Activists on Sunday, July 8, staged a rally in Kyiv in support of Ukrainian filmmaker Oleh Sentsov, who is serving a 20-year prison term in Russia on trumped up "terrorism" charges, as well as other Ukrainian political prisoners held in Russia.
The participants marched from Maidan Nezalezhnosti (Independence Square) to the embassies of France and Germany in Ukraine, demanding that the leadership of Western powers take an active part in the liberation of political prisoners, according to the news outlet LIGA.net.
They asked German Chancellor Angela Merkel and French President Emmanuel Macron to appeal to the President of the Russian Federation to release Oleh Sentsov and other Kremlin hostages.
Read alsoFM Klimkin calls on world community to intensify pressure on Russia to release Kremlin's prisoners
As UNIAN reported, FSB operatives detained Sentsov in Crimea in the spring of 2014. He was transferred to Russia, where he was tried on trumped-up charges of organizing terror attacks and setting fire to the offices of political parties.
The Russian court in August 2015 sentenced Sentsov to 20 years in prison. The Ukrainian film director is being held in a colony in the distant Arctic town of Labytnangi.
On May 14, 2018, Sentsov went on a hunger strike demanding the release of all Ukrainian political prisoners.
The Ukrainian Ombudsperson, Liudmyla Denisova, was denied access to Sentsov.