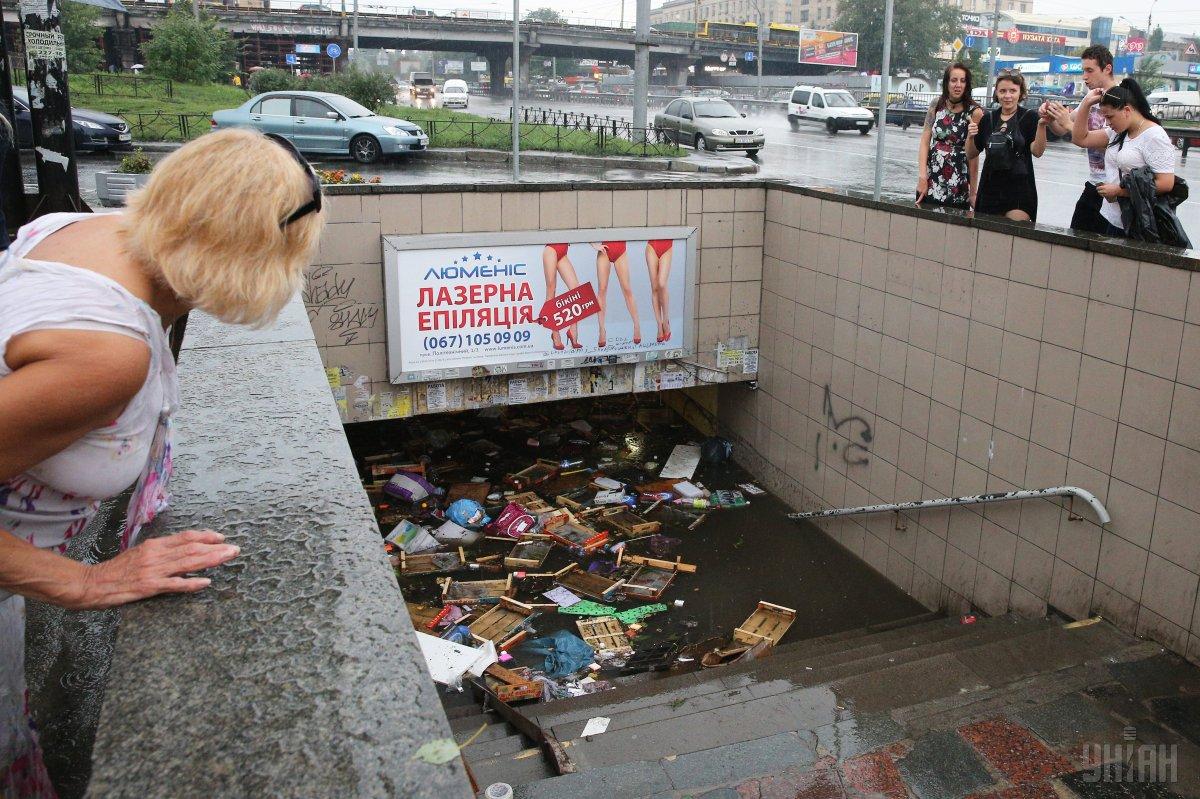 Photo from UNIAN
Kyiv authorities say their priority is to make efforts to prevent possible negative consequences of massive downpours, suggesting they will become a regular occurrence due to a climate change, that's according to Deputy Chairman of the Kyiv City State Administration, Petro Panteleyev, who spoke at a briefing Monday, an UNIAN correspondent reports.
"The consequences of the three showers that we had in the past week allow us making some tactical conclusions, both general and specific. Our consultations with meteorologists suggest that climate change is underway across the planet, and Ukraine is no exception. Here, such "volley" showers will not be a rare occurrence. We must prepare for the fact that this will be regular, and that this will be a sign of summer period," Panteleyev said.
Read alsoHeavy downpour in Kyiv again floods streets (Photo, video)
"Therefore, we will determine the problem of storm water drainage system as a priority for the city. Now the consequences are being quickly eliminated, but we must work on getting ahead of ourselves, and prepare systematically," he stressed.
In particular, the most problematic places in the capital have now been identified, and there it is necessary to carry out works on the modernization of the drainage system, with the expansion of capacities, according to the official.
"Because the main problem that we're seeing is the inability of stormwater drainage systems to accept that much water. This was evident both at Khreshchatyk and in other places," Panteleyev says.
"We need other engineering and design approaches. Thus, we have some very serious work to do that should prevent the current situation from repeating. Because the consequences, as we see, are very serious," Panteleyev said.
According to the report, over the past week, 300 trees collapsed in Kyiv, another 500 trees were damaged, and eight power poles were destroyed.
"We are not even talking about flooded cars, minor damage to sidewalks," the official added.
He said that in connection with flooding of premises, in particular, of parking lots in shopping malls, the city authorities together with the State Emergency Service will check similar facilities for their ability to withstand severe weather.
"Appropriate conclusions will be drawn, recommendations will be given to owners and managers of shopping centers in order to prevent serious damage and prevent threats to people," Panteleyev said.