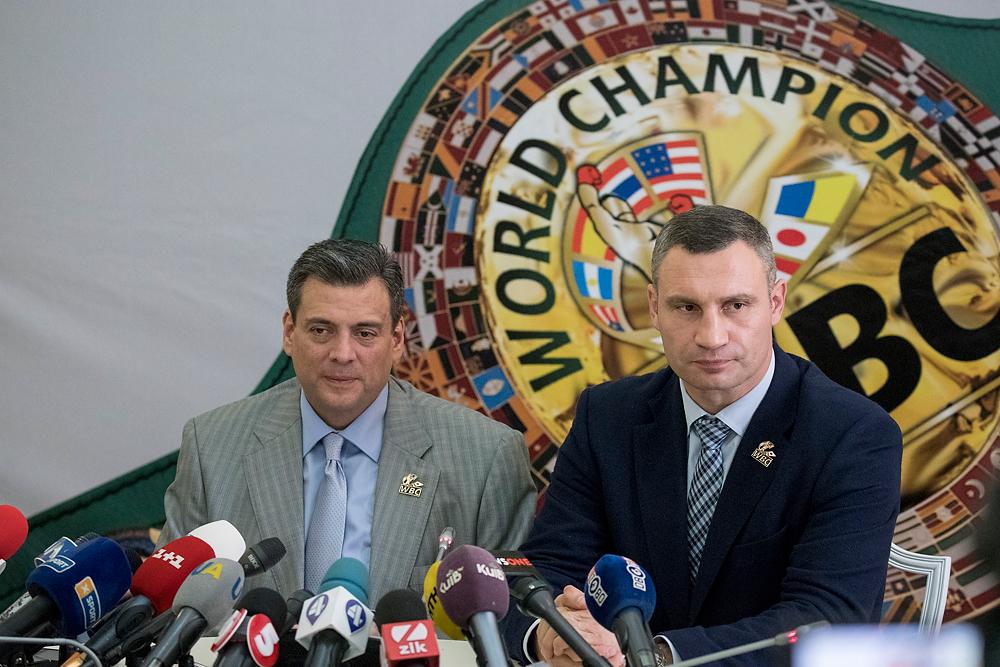 kyivcity.gov.ua
Kyiv Mayor Vitaliy Klitschko has said Kyiv is becoming the boxing capital of the world.
"In May, WBC President Mauricio Sulaiman and I signed a pair of boxing gloves symbolically securing a contract on hosting the 56th WBC Convention in Kyiv. Now there are only a few days left until this biggest event!" he said at a joint press conference with the president of the WBC in Kyiv on Thursday, according to the mayor's press service.
He informed that boxing stars Lennox Lewis, Evander Holyfield, Erik Morales and Oleksandr Usyk had already confirmed their participation. Altogether about 700 participants from 166 countries are expected to attend the Congress, including current world champions, legends of boxing, federation presidents of the WBC member countries, referees and sports officials.
Read alsoUsyk: One reason we agreed to face Bellew is to get Joshua! – media
Two boxing legends Vitaliy Klitschko and Lennox Lewis will also get together at a special event staged at the Convention. Their bout 15 years ago is still an open question. "I can say with certainty that this is going to be an intriguing event. We want to make a surprise. Lennox Lewis is ready, the same as I am," said Klitschko.
"I wouldn't be exaggerating to say that many wonderful surprises await you at the Convention. Kyiv becomes the boxing capital of the world! These six days will be rich in various showpieces- shows, meetings with fans, charity events, but mostly the Convention will be dedicated to shaping the future strategies of the WBC development," Klitschko said.
In turn, WBC President Mauricio Sulaiman told about his impressions of Kyiv. He emphasized that Ukraine's capital is a very beautiful and safe city. He also praised Kyiv's preparations for the Convention and remarked that the WBC would like to see Kyiv hosting the title bouts under its supervision. "I am excited to be in Kyiv. It is not my first visit and I can see that the city is changing, becoming more beautiful and modern. The weather is not very warm, but smiles of Ukrainians warm my heart. The whole world will be watching to see that happens here, in Kyiv. I think, this Convention will be one of the best," Sulaiman said.
According to Klitschko, the Convention agenda is going to be very eventful and interesting.
At 10:00 on Monday, October 1, the opening ceremony on Poshtova [Postal] Square will officially mark the start of the 6-day Convention. And at the same place at 19:00, the WBC will be auctioning off the sports memorabilia, including the original championship belts of the WBC star athletes. All proceeds raised from the charitable auction would go to set up a boxing gym for kids in Mariupol. On Tuesday, October 2, the WBC Cares will visit an orphanage in Kyiv's Obolon district. The WBC is committed to social responsibility. And at 15:00, an autograph session with Lennox Lewis, Evander Holyfield, Oleksandr Usyk and Vitaliy Klitschko will take place in the Gulliver Shopping Mall. There will also be fun contests and raffles for boxing fans. On the same day, Convention attendees will visit a boxing show at Kyiv Sports Palace. On Wednesday, October 3, boxers will participate in a talent show and on Friday, October 5, the Convention invites everyone to visit a Ukrainian Boxing Hall of Fame, which will be unveiled on September 29, and the Klitschko Brothers Museum.