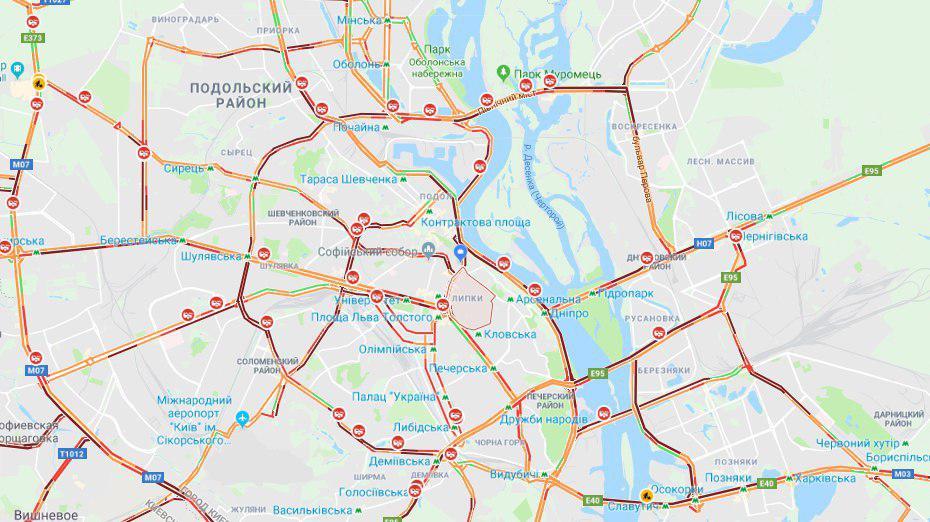 Screenshot
Snowfall in the Ukrainian capital city of Kyiv caused a hign number of car accidents on the roads, which resulted in major traffic jams.
Kyiv residents turned out to be unprepared for the first snow, despite warnings of weather forecasters.
About fifty road accidents have been reported across the city, dtp.kiev.ua wrote on Facebook on the morning of November 14.
Traffic jams have paralyzed the entire city. In some places, cars are moving at speeds under 5 kmh.
Read alsoLaw enforcers expose "parking mafia" in Kyiv
According to Google Maps, worst traffic jams are reported in the center of Kyiv, along Naberezhne Highway, Povitroflotsky Avenue, Vadyma Hetmana Street, Peremohy Avenue, Kiltseva Road, and Kyiv's Sofiivska Borshchahivka.
Traffic across capital's bridges toward the downtown are paralyzed as well, in particular along the South Bridge, the Paton Bridge, and the Metro Bridge.
The snowfall began at around 09:30 Kyiv time. It has been increasing for the time being.
Kyivavtodor Municipal Corporation has reported mobilization of snow removal equipment.
Authorities ask all drivers to be careful and cautious on the road amid heavy snowfall.