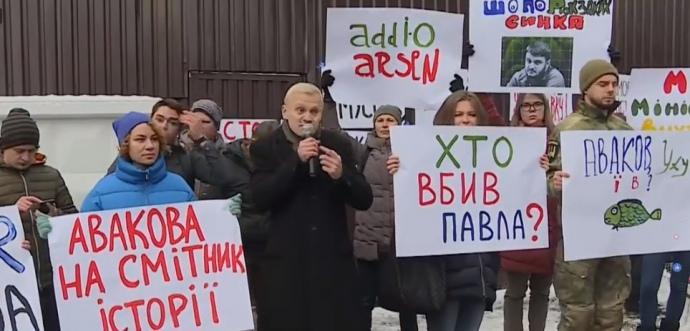 snap from video
In Kyiv, activists staged a rally, driving en masse from the Europeiska Square to the residence of Minister of Internal Affairs of Ukraine, Arsen Avakov, with calls for the official to resign following the recent death in a Kyiv clinic of a Kherson city council official and civic activist, acid attack victim Kateryna Handziuk.
Among the organizers of the action are members of the civic initiative "Who ordered Katya Handziuk's murder?"
The organizers say the rally is a result of a public outcry to unresolved cases of assaults, including deadly attacks, on activists across the country.
Protesters also demand resignation of Prosecutor General Yuriy Lutsenko.
Activists who were earlier attacked for their civic work, namely, Vitaly Ustimenko, Serhiy Sternenko, and others, are also take part in the action.
Earlier it was reported that the Kherson court decided to take into custody in the Handziuk case Ihor Pavlovsky, the former aide to people's deputy Mykola Palamarchuk (BPP). The man is one of the suspects who could stand behind the activist's murder.
As UNIAN reported earlier, the acid attack on the official of the Kherson city council, Kateryna Handziuk, was committed on July 31.
A perpetrator doused the girl with sulfuric acid, as a result of which she sustained chemical burns to over 30% of her body.
Handziuk died from her burns on November 4.