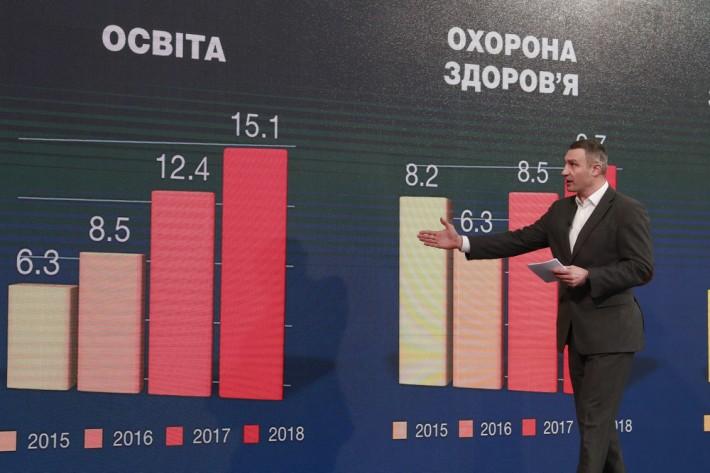 Photo from UNIAN
The revenues of the Kyiv budget in 2018 increased by UAH 2.7 billion, according to City Mayor Vitaliy Klitschko, who delivered an annual report on the administration's work throughout the year.
"Kyiv budget revenues compared to 2017 increased by UAH 2.7 billion. In general, in 2018, the capital's budget amounted to UAH 51.5 billion. Comparing the figures, you can see how it was growing in recent years," Klitschko said .
According to the mayor, in 2018, most of the funds - about two thirds of the costs - were traditionally directed to education, health care, social protection, culture, and sports.
Read alsoKlitschko vows to buy cable cars with air conditioning for Kyiv funicular railway in 2019
Funding was most raised for education– by UAH 2.7 billion; health care – by UAH 1.2 billion; social protection and social security – by UAH 900 million.
Among other things, the mayor mentioned the Public budget.
"These are the funds that Kyiv residents distribute, themselves. The money goes to implementing the projects proposed by city residents. The teams of 141 projects became winners of the Public Budget-2018. The total amount is almost UAH 150 million," said Vitali Klitschko. Among the winners, there are 62 large projects (with the cost over UAH 400,000) and 79 smaller projects.
As the mayor noted, most of the ideas initiated by local residents relate to education and sports.