facebook.com/Serhiy Mazur
Law enforcers on Saturday used force against a group of activists who, police say, attempted to storm their district station.
Earlier today, at Kontraktova Square, where Yulia Tymoshenko was meeting her voters as part of her presidential campaign, police detained members of a nationalist organization C14 , who came to the event carrying posters "Who ordered [the murder of] Katya Handziuk?"
All detainees were taken to the Podil district police station. As reported on the activists' Facebook page, they intended to ask Yulia Tymoshenko when she would initiate dismissal of Kherson regional council chairman Vladyslav Manger, member of her Batkivshchyna Party, whom the murdered activist's father insists is complicit in his daughter's murder in Kherson.
"The police beat the activists who had been taken to the station without any reason, as well as their friends who came there for them. The police also used tear gas," the group wrote on Facebook. The detainees were released, the activists added, but police allegedly "took away their personal belongings."
"The guys demanded that their stuff be returned, and law enforcers employed tear gas. A special-purpose police squad (the former "Berkut") was deployed to do the job. They applied force. There are people wounded there," the posting read.
C14 coordinator Serhiy Mazur via Facebook called on supporters to join the rally outside the Podil polic station: "This is where the friendship of YuVT [Yulia Tyomshenko] and Arsen [Avakov, the interior minister] is being created as both of them are not okay with the questions we ask."
He also called for activists to rally outside Arsen Avakov's home.
Read alsoAlleged organizer of Handziuk's murder on wanted list since Dec 10 – PGO
In turn, the police report says "a group of people with brilliant green, cans with tear gas, and knives" was spotted at Kontraktovaya Square.
"The young people were covering their faces. They were taken to the police department for ID'ing and questioning," reads the report. Ten people were taken in, while another group of young people (from 15 to 30 people) arrived in ther support, after which the squabbles erupted at the front door.
"After all detainees were released, a support group arrived to help them, having arranged a brawl and applied gas cartridges against law enforcers. As a result, all active participants were detained, and this is about 40 people," it was reported.
Law enforcement officials called the events "an attempt to storm the police station." Special forces were called in to detain activists. It is also noted that three police officers were injured in the incident and later hospitalized.
Investigators launched three criminal proceedings: on charges of a threat or violence against a law enforcement officer", "seizure of state buildings," and "hooliganism".
Read alsoAll complicit in Kherson activist murder to be brought to responsibility, Poroshenko reassures
According to lawyer Masi Nayyem, the police are studying videos from the scene to identify perpetrators.
At the same time, criminal proceedings were opened to probe the beating of members of the C14 organization by police forces.
A spokesman for the Prosecutor General Larysa Sargan said that the investigation will be conducted by the State Bureau of Investigation.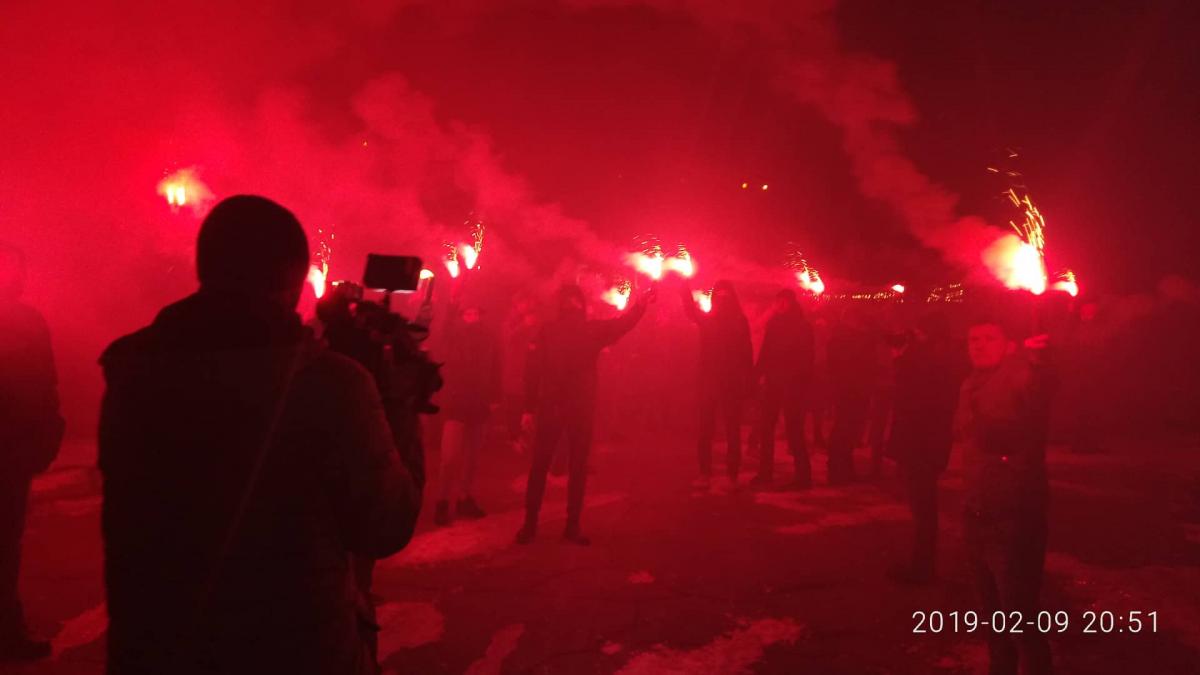 Photo from UNIAN
On Saturday night, several dozen activists rallied outside the house of Interior Minister Arsen Avakov and demanded that the participants of the action "Who Ordered the Murder of Katya Handziuk?" detained in Kyiv earlier today be released.
During the picket, protesters lit up fireworks and used several smoke bombs, according to an UNIAN correspondent.