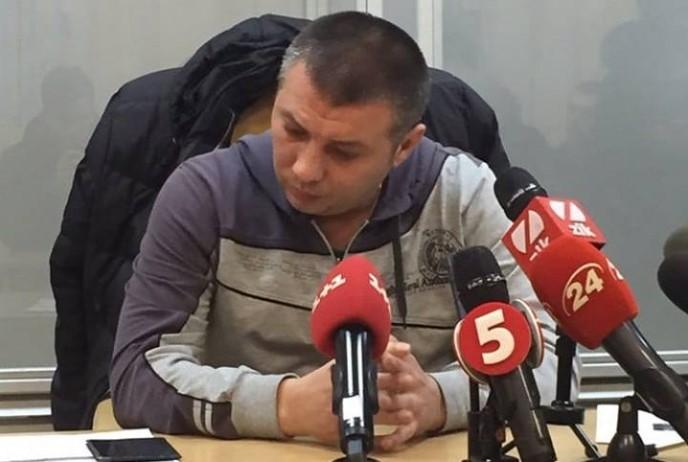 Facebook Serhiy Mazur
The court ruled to remand in custody for two months a Kyiv PD operative Vasyl Melnikov, who the prosecution believes was recorded on a video beating an activist during a rally outside the city's Podil district police station. According to an UNIAN correspondent, the ruling was handed down by a Pechersk district court in Kyiv on Tuesday.
At the same time, the judge set a bail at UAH 115,000 (nearly $4,250).
The law enforcer is being charged with abuse of power, while the allegation that it was the suspect who shouted a notorious "On the ground, Bandera!" while beating up the protester has not been backed by sufficient evidence and was therefore dismissed.
Read alsoAnti-riot squad suppress, detain nearly 40 activists outside police station in Kyiv (photo, video)
As UNIAN reported ealier, on February 9, Kyiv police detained and assaulted activists of the "Who ordered the murder of Katya Handziuk?" initiative who were rallying at the campaign event organized by presidential candidate, leader of the "Batkivshchyna" Party Yulia Timoshenko.
After that, supporters of the group detained gathered outside the Podil police station and attempted to storm the building. A clash broke out between the activists and law enforcers. The police used tear gas and batons. About 40 people were detained and three investigations were launched, probing "threat or violence against a law enforcement officer", "seizure of public buildings" and "hooliganism".
It was reported that as a result of the clash, three police officers were injured and later hospitalized.
The lawyer of the detainees, Masi Nayyem, said that at least eight activists of the C14 organization were detained and charged with committing an act hooliganism as part of a group (part 4 Article 296 of the Criminal Code of Ukraine).
Later all the detainees were released.
Criminal proceedings were initiated into the beating of activists by police (abuse of power or official authority).