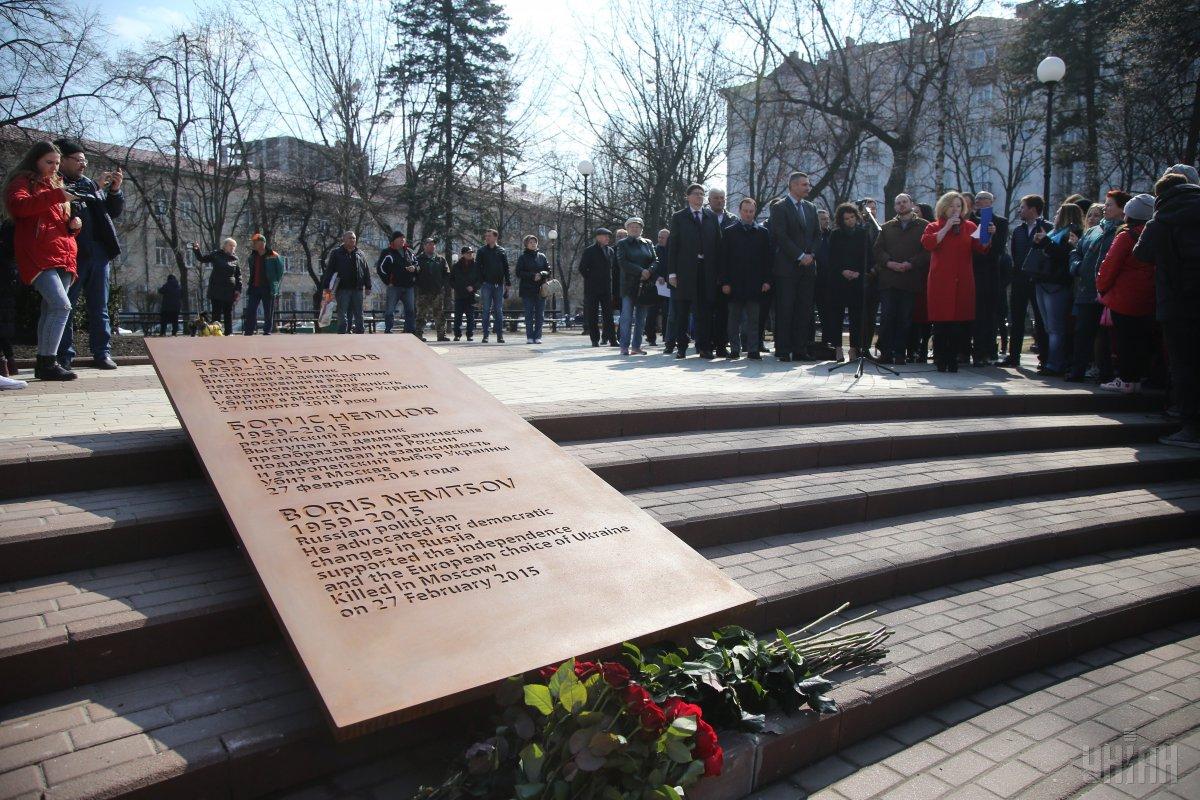 Photo from UNIAN
A public garden named after Boris Nemtsov was opened in Kyiv Friday, March 15.
The Kyiv State City Administration's press service says the public garden and a plaque commemorating the slain opposition figure, located on the corner of Surikov Street and Vozduhoflotsky Avenue, were opened by Kyiv Mayor Vitaliy Klitschko and Nemtsov's daughter Zhanna.
Speaking at the event, Zhanna Nemtsova said the layout of the memorial plaque was developed by Russian architects.
"Perhaps, the main question for many people is why the memorial in honor of my father is opening up in Kyiv. That's because he really was a great friend of Ukraine. Most importantly, it seems to me that his tragic fate is closely connected with the events that were happening and are happening in Ukraine," said the daughter of the murdered politician.
The KSCA reminded that on November 15, 2018, Kyivrada named a public garden at the corner of Surikov Street and Vozduhoflotsky Avenue after Boris Nemtsov.
Read alsoKyiv Commission endorses idea to name public garden near Russian embassy after Nemtsov
UNIAN memo. Boris Nemtsov was an prominent opposition figure in Russia. In 2014, he condemned the Crimea annexation and signed a petition requesting the withdrawal of Russian troops from the territory of Ukraine and ceasing material and military support for the self-proclaimed "DPR" and "LPR".
Nemtsov was shot dead in central Moscow on February 27, 2015, as he was completing a report on Russian troops fighting against Ukraine alongside the Donbas terrorists.