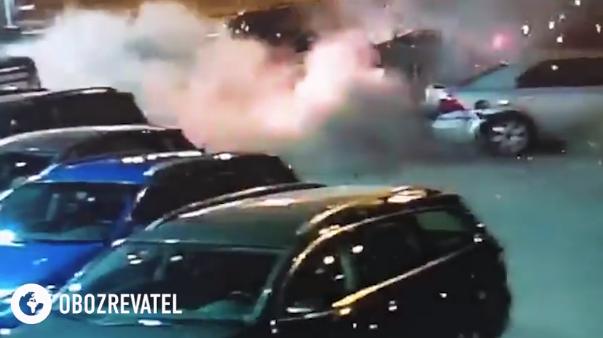 Snap
Explosion of a Ukrainian intelligence operative's car which rocked Kyiv's Holosiyivsky district overnight April 4, was recorded by CCTV cameras.
The video shows a man walking with a dog along an Auchan supermarket parking lot located on Academic Williams Street overnight. Having approached Chevrolet Evanda, he leaned toward the car and seemed to have tried to plant an improvised explosive device there. The Ukrainian online news outlet Obozrevatel released an exclusive footage.
Read alsoSecurity operative's car blown up in Kyiv: journalist (Photo)
However, the explosion occurred prematurely. The man had his arm ripped off in the blast, according to media sources. He is now in the hospital under guard.
According to preliminary data, it was an assassination attempt on a Ukrainian intelligence officer.
Censor.net chief editor Yuriy Butusov earlier reported the car owner was an officer of the Ukrainian special services, who took an active part in the Joint Forces Operation in Donbas.