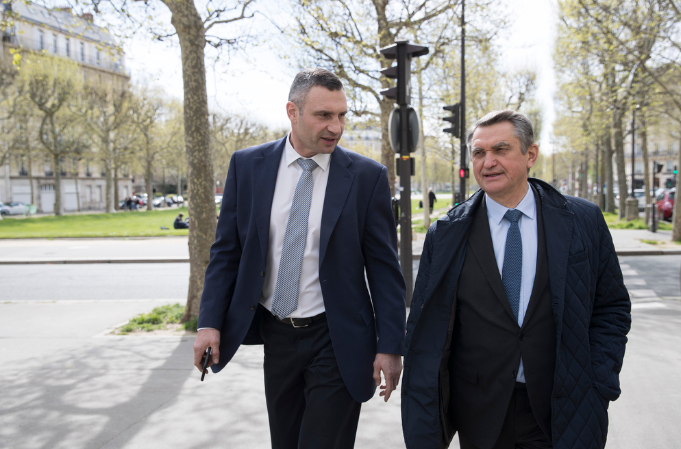 kiev.klichko.org
Kyiv Mayor Vitaliy Klitschko has met in Paris with Director of the UNESCO World Heritage Centre Mechtild Rössler.
Together with Deputy Mayor Oleksandr Spasybko and Executive Director of ICOMOS Ukraine Olena Serdyuk, he briefed the UNESCO experts on plans for a major tourist route in the heart of Kyiv. Construction of a new pedestrian and cycle bridge, which will become an important part of the route, stringing together Volodymyrska Hirka and the Friendship of Nations Monument, is already underway, according to the mayor's press service.
Read alsoKyiv to get funds from national budget for construction of bridge, subway line
Klitschko remarked the work is carried out beyond the buffer zone of the St. Sophia Cathedral as a world heritage site. The boundaries of the buffer zone were defined by Ukraine's Ministry of Culture in 2017. The construction work does not in any way violate the legislation since the city authorities have obtained all corresponding permits. According to Klitschko, the city administration has also sought the expert advice of the Ukraine's National Committee of International Council of Monuments and Sites (ICOMOS Ukraine) on the bridge construction project.
"ICOMOS Ukraine confirmed that the construction of the pedestrian bridge will not in any way affect and damage the world heritage site," stressed Klitschko. "It is of vital importance for us to preserve the universal value of the objects, which are part of the world heritage and this principle guided our project work. This bridge will encourage a higher attendance of global heritage sites in Kyiv by residents and visitors, as well as smarten area around these monuments," he said.
Klitschko also remarked the city closely works with UNESCO and is ready for further expert consultations. The Advisory mission is expected to visit Kyiv in the second half of April.