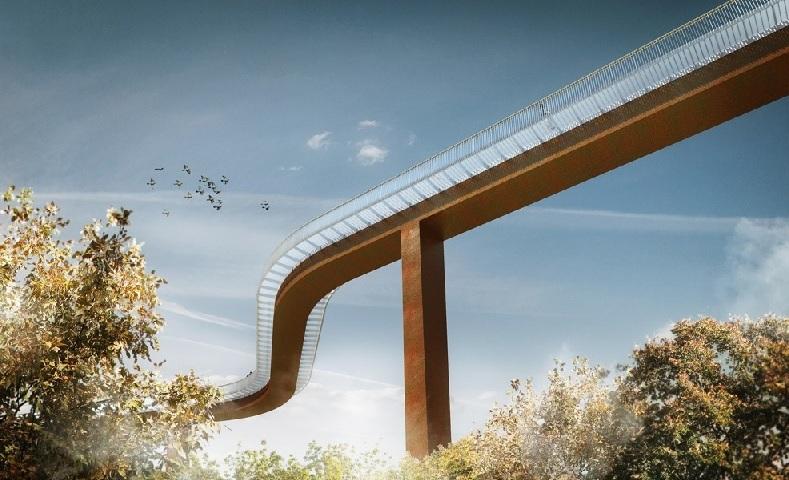 nashigroshi.org
A Swiss architectural firm, Leuppi & Schafroth Architekten, says the concept of and constructive solution for the "Klitschko Bridge" in central Kyiv was taken from their project that had been submitted to a 2013 competition and was never paid for.
The bridge, which is now under construction, is designed for pedestrians and cyclists, and is set to connect the Kreschatiy and Volodymyrska Hirka parks, Nashi Hroshi investigative project reported.
The publication notes that in a recent statement, the company's founder and principal, Stephanie Schafroth, said several architects had notified her of a bridge being built in Kiev, which is very similar to her company's project of 2013.
According to Stephanie Schafroth, the basic concept, general design principles, the form, the constructive solution, and the materials were taken from her company's project.
Read alsoKlitschko: Talks underway with Europa-Park to create similar theme park in Kyiv
The monetary prize the company won for their project at the 2013 competition was never paid, according to Schafroth.
She says that in April 2017, representatives of the Kyiv City State Administration contacted the company, stating they were willing to implement the project. The budget and schedule that the company prepared during the competitive phase was very realistic, Schafroth states. Their project, she says, was the cheapest, most rational and possible for implementation.
After a series of letters and videoconference calls with a group of Kyiv officials, the project cost was criticized as too high. The offer the company made to sell the rights to the project was also rejected as too expensive.
Kyiv officials never got in contact ever since, according to the architect.
She noted that project assessment said it would cost a little over 6 million Swiss francs, while today's cost stands at nearly 10 million Swiss francs.