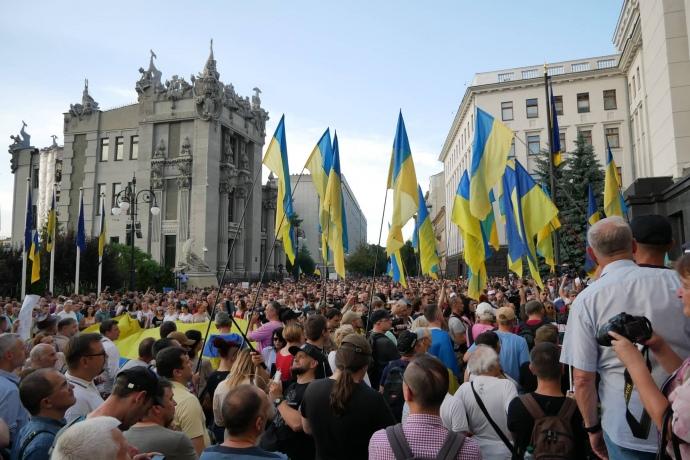 Ukranian Pravda
A nearly 1,000-strong rally was held Monday outside the Presidential Administration HQ in Kyiv titled "Stop Capitulation".
The activists say they are outraged by the recent statements regarding Donbas voiced by Ukraine's envoy to the Trilateral Contact Group, Leonid Kuchma, RBC-Ukraine reports.
During the event, a brief clash erupted between protesters and police, the report says.
"What kind of people are forming a roadmap in Minsk? Who is responsible for the ideas brought by Kuchma? Was it Kuchma himself or someone else? It is necessary that, among other things, veterans be part of the group that forms the road map on Minsk agreements. To have in this group the people who are aware of what happens when Russia breaks its promises. Let the veterans be allowed to form the roadmap in Minsk, otherwise we will perceive it as a quiet capitulation. We will not allow this," activists said.
During the rally, one of the activists stuck a sticker on the wall of the Presidential Administration "Administration of the Malorossiya Governor", which eventually caused the clash with police.
After that, the activists began chanting "[interior minister] Avakov, goodbye!" They also burned a white flag at the Administration HQ entrance.
"Russia doesn't keep promises. The withdrawal of heavy weapons [in Donbas] means surrender," said one of the organizers of the rally.
In addition, the protesters demanded the resignation of Zelensky's press secretary, Yulia Mendel, and Head of the Presidential Administration, Andriy Bohdan.
As UNIAN reported earlier, on June 5, following the regular meeting of the Trilateral Contact Group on Donbas settlement, Leonid Kuchma announced new initiatives, among which was the one to lift the economic blockade off the temporarily occupied territories in eastern Ukraine. He also proposed to spell out in the agreements on a ceasefire in Donbas the provision prohibiting the Joint Forces to return fire.
On June 6, Kuchma explained that the "don't return fire" position on Donbas should concern a ban on firing at civilian infrastructure facilities.
In turn, the OSCE Special Representative in the TCG, Martin Sajdik, said that the issue of lifting the economic blockade was raised by militant leaders and supported by Russia.
In addition, presidential press secretary Yulia Mendel stressed that such agreements should take place exclusively "in the two-way format." That is, the economic blockade could be lifted off the occupied part of Donbas only after the cancellation of the ruble zone and pseudo-nationalization, which the pro-Russian militants conducted.