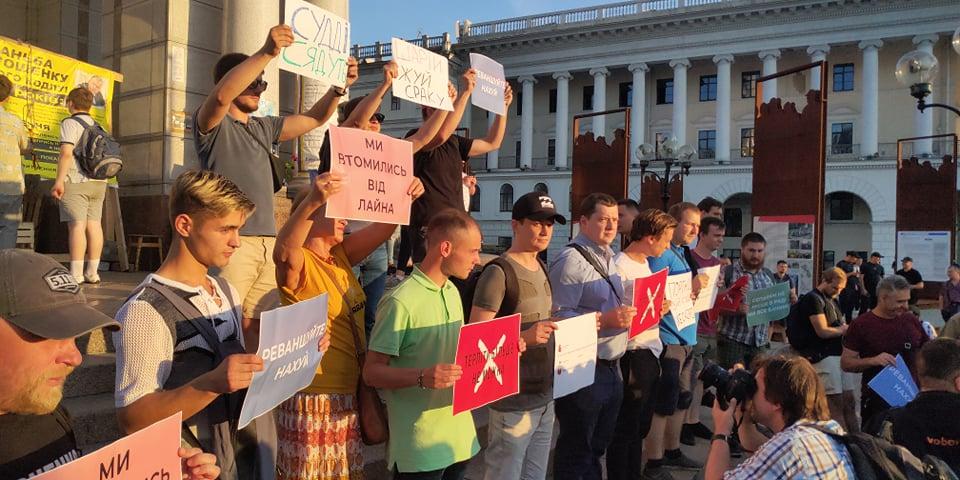 Photo from Informator
A rally was held on Kyiv's Independence Square on July 2 in protest against the registration by Ukraine's Central Election Commission (CEC) of ex-head of the presidential administration during Viktor Yanukovych's presidency Andriy Kliuyev and pro-Russia blogger Anatoliy Sharij as candidates running for parliament.
Nearly a thousand protesters, including journalists and civic activists, came to join the event, the online publication Pryamiy reported.
Also, the Facebook event was created under the slogan "Terpity bilshe ne mozhna" ("Can't put up with it any longer"). Ukraine's fifth president Petro Poroshenko, who described recent developments as "creeping pro-Russian revenge," called on people to join the event.
Protesters held posters saying, "Judges will be put behind bars," "Can't put up with it," "No place for separatists in parliament," etc.
Read alsoZelensky's envoy to Rada: Russian language for Donbas "Bohdan's personal position"
Activist Roman Sinicyn confirmed that the protest was peaceful. "We reserve the right to move from a peaceful to non-peaceful protest. We also call on Volodymyr Zelensky, the president and guarantor of the Constitution: 'In such situations, you have to be faster than people to speak, not to keep silence and hide. If you do not make a statement regarding the shameful decisions to register the fugitive anti-Maidan [advocates] contrary to the law and the Constitution, we will come to you,'" he said on Facebook.
According to UNIAN, the CEC, in pursuance of Supreme Court rulings, on July 2 decided to register Kliuyev, Sharij and Yevhen Yevtukhov (the latter two are on the Party of Sharij list) as candidates running for parliament.
Protesters said that they gave two days for the CEC to repeal the decision, and they said they would stage a rally outside the CEC HQ if this did not happen.
The CEC then said they could review the decision on the registration of Kliuyev and Sharij if there was additional evidence proving that the two had not been living in Ukraine for the past five years, which is one of the main conditions for a candidate's registration.