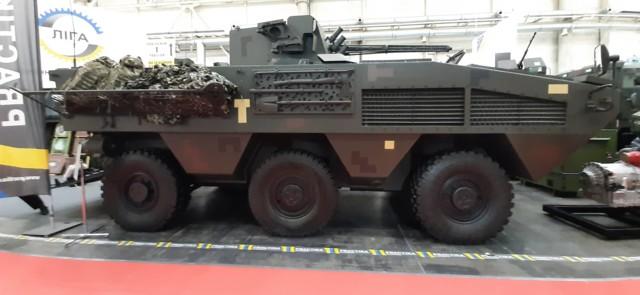 The Otaman-3 armored personnel carrier / Photo from segodnya.ua
The 16th International Specialized Exhibition "Arms and Security" has opened in Kyiv.
A new Ukrainian armored personnel carrier, 'Otaman-3,' developed by the Kyiv-based Practika firm for the Armed Forces and the Marine Corps of Ukraine, is being showcased there, the Segodnya online newspaper reported.
The armored personnel carrier meets the latest standards of protecting the crew and the landing force – it has an engine compartment in the front and a troops compartment at the rear; it also boasts high levels of ballistic and anti-mine protection.
Depending on the goals set, the Otaman-3 can carry various weapons and become the basic platform for self-propelled artillery mounts, fire or mortar support vehicles. It can also be a command-and-control or field recovery vehicle.
Read alsoUkraine announces no-fly zone over part of its Black Sea as rocket firing scheduled for Oct 3-4
In general, on display are promising developments in the field of military equipment and technologies presented by the National Security and Defense Council, the Ministry of Internal Affairs, the Ministry of Defense, the Ministry of Economic Development, the SBU Security Service of Ukraine, the State Emergencies Service of Ukraine and the Ukroboronprom Group of Companies.
In particular, Ukroboronprom's flagship at the current exhibition is a full-scale prototype of the coastal anti-ship missile complex "Neptun" ("Neptune") consisting of three units: a launch vehicle, a transport and loading vehicle and a mobile command post. The latter is for the first time demonstrated by the Kyiv-based Luch Design Bureau.
Luch is also showcasing the RK-10 guided missile and a training complex for the Korsar (Corsar) light portable missile system.