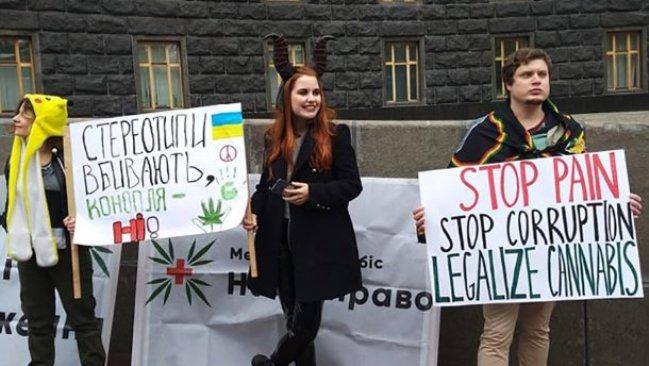 Andriy Kostiuk / Channel 24
Some 500 activists representing several NGOs have gathered outside Government premises in Kyiv, rallying for the legalization of cannabis for medical use, according to an UNIAN correspondent.
They require that the authorities allow the use of cannabinoids in the treatment of critical patients, and that the government increase to the objectively justified limit a threshold amount of cannabis allowed to store and carry exempt of criminal penalty.
The campaign is aimed to attract government attention to the problem of criminalizing substances that are based on medical cannabis, said Alina Priymak, member of the Veterans for Medical Cannabis public organization.
According to the declaration of intent published on the event's Facebook page, protesters also demand a complete reorganization of the drug control and drug enforcement agencies, to be subject of civic control and with the priorities identified by the State Drug Strategy.
Today in Ukraine, there are about 2 million patients who could get help through the use of medical cannabis. It can relieve chronic pains, symptoms of multiple sclerosis, nausea and vomiting during chemotherapy, epilepsy, and irritable bowel syndrome. Marijuana is also known for relieving cramps for people with Parkinson's syndrome.
In spring this year, an e-petition on Parliament website calling for legalization of medical cannabis collected the necessary number of signatures to be considered.
Read alsoUkrainian parliament's committee backs legalization of medical cannabis
The relevant Parliament committee supported the petition.
On May 20, draft law No. 10313 "On Amending Certain Legislative Acts of Ukraine Regarding Ensuring the Fundamental Human Right to Life" was registered in parliament, which proposed regulating the use of cannabis for the needs of medicine and science.
However, in August the bill was recalled.
On September 4, Health Minister Zoryana Skaletska did not rule out the development of a new bill on the legalization of medical cannabis.
On October 10, President Volodymyr Zelensky expressed the opinion that Ukrainian society was not yet ready for the legalization of cannabis, and that the issue was untimely.