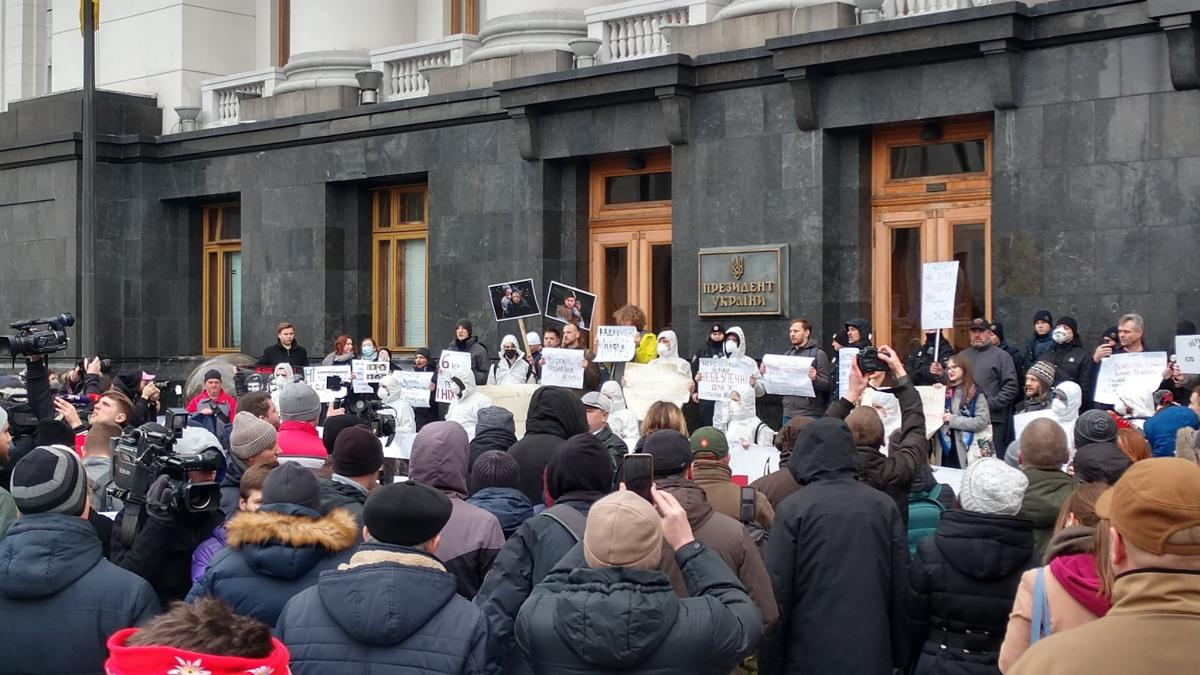 Protesters demand Avakov's resignation / Photo from Automaidan on Facebook
Several dozen activists on Sunday, February 23, gathered outside the building of Ukrainian President Volodymyr Zelensky in the center of Kyiv, demanding the resignation of Minister of Internal Affairs Arsen Avakov.
"People have gathered outside the President's Office to oust #AvakoVirus, because under Volodymyr Zelensky's personal recognizance, this Evil One was able to stay in office," NGO Automaidan said on Facebook on February 23.
Automaidan also shared a video and photos of the rally.
Activists brought posters demanding proper investigations into the murders of Kherson activist Kateryna Handziuk, who died after an acid attack in 2018, and Belarusian journalist Pavel Sheremet, who was killed in a car blast in the center of Kyiv in 2016.
Protesters chanted "Down with AvakoVirus" and "Avakov – the Evil One."
According to the media outlet Hromadske, participants in the rally accused the interior minister of the lack of results of investigations into attacks on public activists and journalists.
A small brawl reportedly took place during the rally.
Read alsoReporters Without Borders concerned over "inconsistencies" in Sheremet murder evidence
Hromadske released a video on social media showing activists' attempt to fix their posters on the President's Office building. Police did not let them to that, which was followed by the brawl. A poster informing about an unsuccessful investigation into the Sheremet case was ripped off. 
As was reported, in June 2019, Zelensky, having considered a petition on the dismissal of Avakov, said that it was not within the presidential authority to do this.
Мітинг за відставку Авакова: активісти спробували повісити на будівлю Офісу президента плакати з написом «Подання про відставку міністра внутрішніх справ Арсена Авакова?» — поліція не дала їм це зробити.

Плакат з зауваженням про незадовільне розслідування справи Шеремета зірвали pic.twitter.com/GQbavmjFmM

— hromadske (@HromadskeUA) February 23, 2020
Avakov, 56, was appointed Interior Minister in 2014 after the election of Petro Poroshenko Ukraine's president.
Under the Law of Ukraine on the Cabinet of Ministers, a member of the government could be removed from office by the Verkhovna Rada by accepting a minister's resignation or voting upon the respective submission by the prime minister to dismiss the minister.