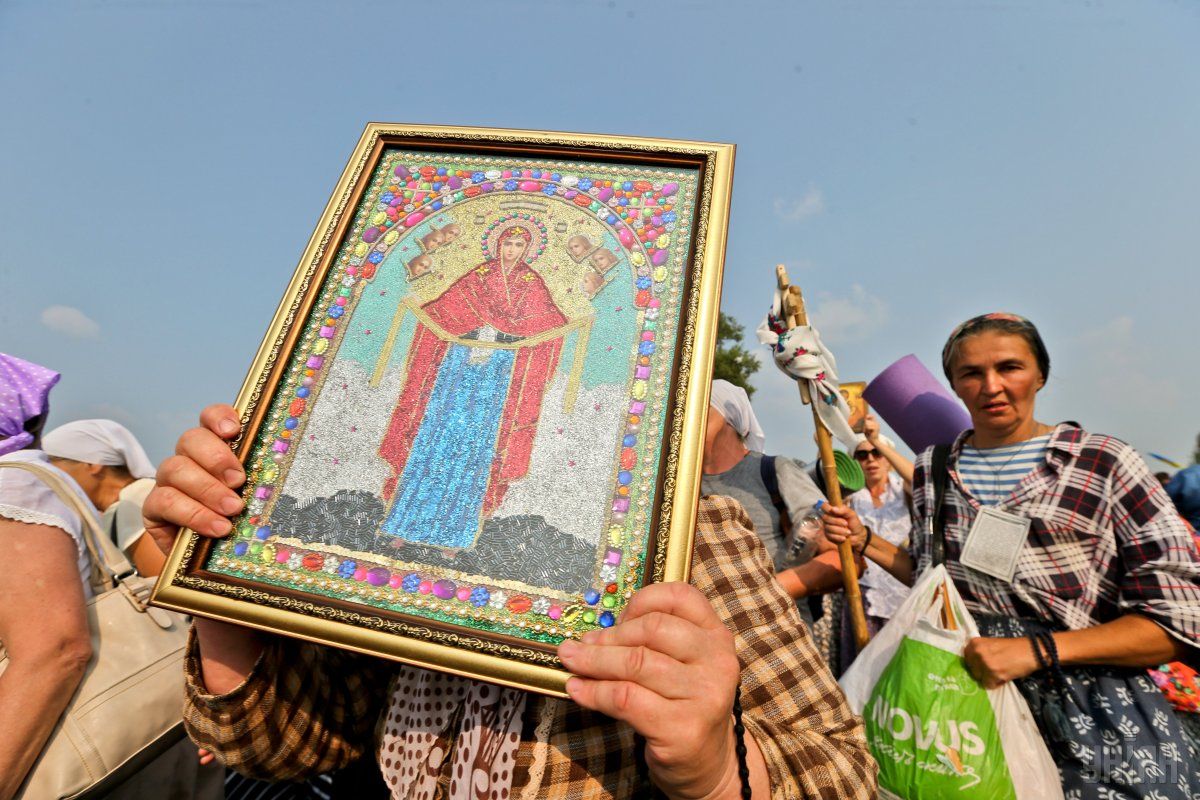 Photo from UNIAN
The All-Ukrainian Procession of the Cross for Peace, Love and Prayer for Ukraine includes thousands of believers from the Ukrainian Orthodox Church of the Moscow Patriarchate – an affiliate of the Russian Orthodox Church and a rival of a major Kyiv-based church, RFE/RL reports.
Marching in two groups – one from the west of the country and another from the east – they plan to converge on Kyiv's Volodymyrska Hill and then at the Kyiv-Pechersk Monastery on July 27, the eve of the celebration of the 10th-century Baptism of Kievan Rus.
Moscow Patriarchate leaders say they will pray for peace and prosperity in Ukraine. The church's Bishop Clement told RFE/RL's Ukrainian Service that there will be no provocations, at least from their side.
Ukrainian authorities say they suspect the marches are merely a front for a Moscow-orchestrated plot to stir unrest and prove what Russia has claimed since Euromaidan protests drove a Moscow-aligned president from power in 2014: that the rights of Russians, Russian speakers, and members of the Moscow-based church's flock are at risk here.
Ukrainian parliament speaker Andriy Parubiy dismisses those Russian claims and accuses Russia's Federal Security Service, the FSB, of planning to use the marches to destabilize Ukraine by fomenting unrest in the streets of Kyiv and creating "an artificial political crisis."
"Together with peaceful believers, [the FSB] are bringing provocateurs with prohibited symbols and symbols of the aggressor country… including athletic youths who have a history of participating in church-related attacks," Parubiy alleged in a recent telecast. He said authorities had gathered intelligence that proved his concerns legitimate, but he did not present evidence of his claims.
Read alsoActivists gather outside Kyiv to prevent religious march from entering (Photo)Marchers in the processions have been seen wearing orange-and-black St. George ribbons, a symbol of Soviet military valor that has been adopted by pro-Russia separatists in eastern Ukraine as a sign of resistance to Kyiv, and carrying flags adorned with images of Nicholas II, the last tsar of Russia. The symbols irk many in Ukraine, which has gone to great lengths to step out of the shadow of its giant neighbor and former ruler.
Archbishop Yevstratiy, secretary of the Ukrainian Orthodox Church of the Kyiv Patriarchate, told Ukraine's EspresoTV that he believes the motive for the procession is to show that there is broad support in Ukraine for "Russkiy Mir," or the Russian World – a term that has been used by President Vladimir Putin and other Russians to describe what they claim as Russia's sphere of cultural, spiritual, and political influence – at a time when Ukrainian churchgoers are increasingly leaving the Moscow Patriarchate for the Kyiv Patriarchate.
Meanwhile, Vasyl Hrytsak, chief of the Security Service of Ukraine (SBU), claimed Russia had orchestrated the processions in hopes that a "Franz Ferdinand moment" would occur, referring to the Austrian archduke whose assassination in 1914 sparked World War I. Then, he said, Moscow could claim Ukraine is violating Orthodox Christian believers' rights, concocting a reason to intervene.
Russia used claims that Russian speakers were under threat to justify its takeover of Ukraine's Crimean Peninsula and its backing of pro-Russia separatists in the country's eastern Donetsk and Luhansk regions, where Kyiv and NATO say Moscow has sent thousands of troops during a war that has killed more than 9,400 people since April 2014.
Ukrainian activists and veterans of the conflict in eastern Ukraine are collecting signatures supporting a ban on the processions.
But authorities say they plan to allow the processions to continue, and they have tasked police to monitor the marchers while also ensuring their safety.