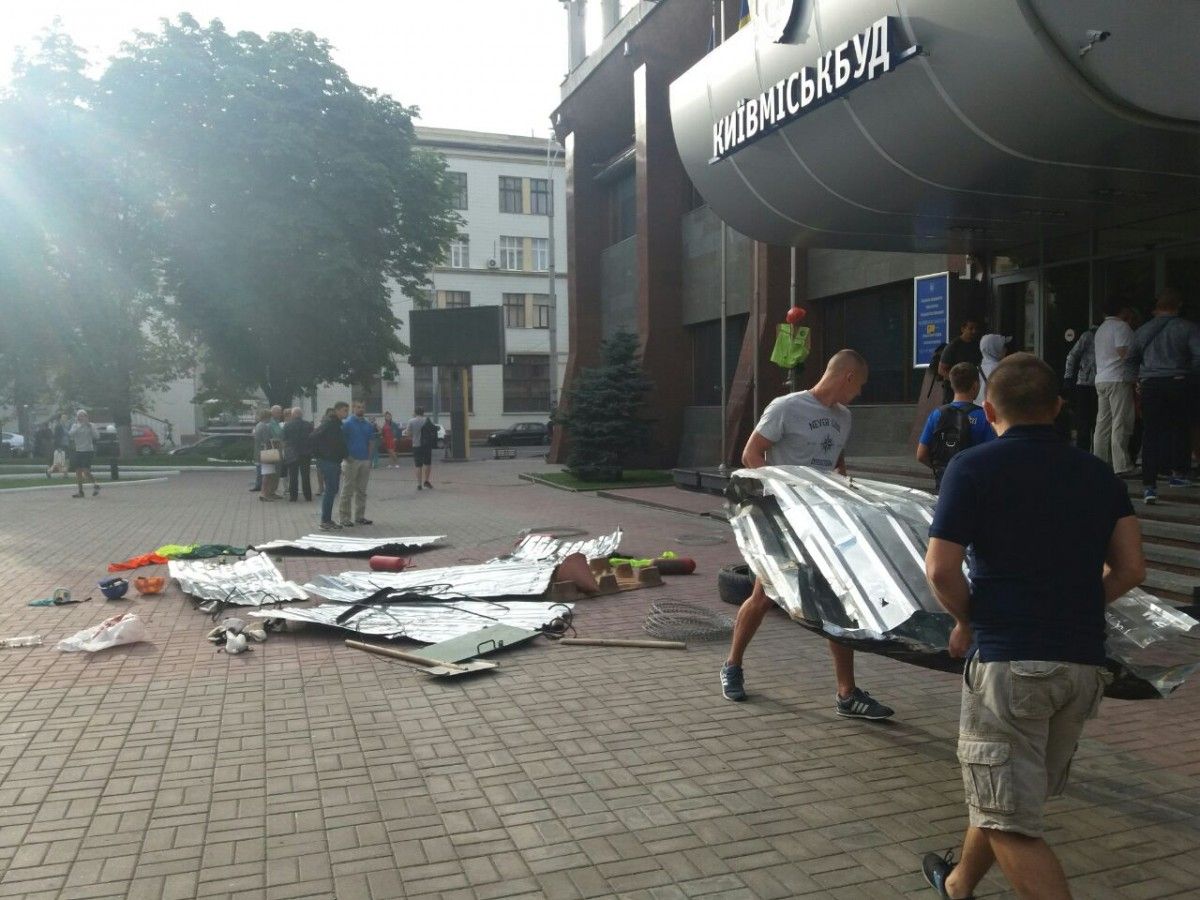 Kyivmiskbud calls on the authorities to interfere into the conflict situation / Photo from vk.com/batalion.azov
"The events that happened last night and in the morning outside Kyivmiskbud's office push us to choose drastic measures. We're going to suspend all our construction work and announce a strike, until aggressive provocations and attacks on our fair business do not stop," the company said in a statement on its website.
Also, the company called upon the interior minister, police chiefs, and members of parliament to "immediately interfere in this shameful situation and make those guilty to be liable, so that raiders attacks on legal construction sites in our country stop being a fashion, with dividends to those who pay for this."
"We're announcing an indefinite strike, ceasing all our operations until our employees are able to go to the construction site without fear. Now, our investors, who are thousands of residents of Kyiv waiting for their own housing, will demand that you [the authorities], together with us, take up decisive action and protect honest business against seizures," the company said in their statement.
Read alsoAzov Civil Corps stops blocking Kyivmiskbud's office over disputed construction site
As UNIAN reported earlier, late on September 8, activists and local residents, who are against the construction of a 25-storey building in Kyiv's Svyatoshyn district, broke into the construction site where representatives of the construction firm had barricaded themselves.
The customer paying for the construction is Kyivmiskbud, while the contractor is Ukrbud Invest LLC, according to a construction site billboard, the Ukrainian online portal vlada.io wrote.
The dispute between local residents and the construction firm dates back to 2014, when Kyiv City Council decided to transfer a plot of land for the construction of a residential building. Until recently, this land was used by local residents as a parking lot. When the conflict became violent on September 5, 2016, and the construction firm fenced in the site, some of the residents from near-by buildings were not able to retrieve their parked cars.
They also expected that a kindergarten, which Kyiv lacks in many districts, will be built, but they are afraid that it will be built as part of the residential complex, instead of as a separate facility, as is required by construction rules for such structures.
The construction firm alleges, though offering no proof, that the construction site is being blocked by those resorting to racketeering, demanding money, and calling it "a raider attack."
"Meanwhile, official representatives of the company have not appeared at the site in recent days [when the conflict is on]. They prefer to communicate with Kyivans solely via public statements posted on the company's website," vlada.io said.
During the protests, neither Svyatoshyn District Council representatives nor Kyiv Council members dared to come to the site, it added.
Police told vlada.io that by the morning of September 8, they had opened three criminal cases: on facts of prevention of lawmakers' activities, due to a policeman being injured, and to investigate hooliganism. The day before, police opened two criminal cases on facts of hooliganism and blocking of transport infrastructure.
Local residents, in turn, have pledged support from the Azov Civil Corps, who, as a last resort, chose to block Kyivmiskbud's office on Suvorova Street in Kyiv's Pechersky district on September 9.
Not only Azov members and Russian-Ukrainian war veterans, including the Donbas Battalion, supported the local residents, whose total numbers were about 200 people on September 6, according to the Sich S14 Ukrainian young nationalist organization's Facebook page. The locals also received support from Members of Parliament, including Pavlo Kostenko, Semen Semenchenko, Volodymyr Parasiuk, and Oleh Petrenko, who on September 7 were present at the construction site.
In particular, Kostenko said that the construction site was guarded by so-called tituskis [a term widely used during the Maidan events in Ukraine when former president Viktor Yanukovych's law enforcers dispersed pro-European activists, it means "hired thugs"]. Kostenko said that about 50 titushkis had attacked both lawmakers and policemen, using tear gas and riot control devices, such as electric stun guns and batons.
"The conclusions from these events are the following: there are organized criminal tituski gangs, and their unlawful activity is covered and coordinated at the highest level," he wrote on September 7.
After the September 7 incident, police detained some 30 people.