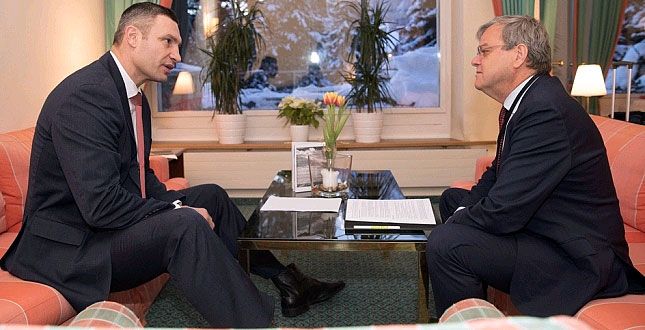 kievcity.gov.ua
Klitschko held a meeting with Thomas Maier, the Managing Director for Infrastructure at European Bank for Reconstruction and Development, as well as with the infrastructure and urban development leaders. The Kyiv Mayor will also take part in a panel discussion "Leading in Divided Times," according to the mayor's press center.
The mayor named renewal of the city infrastructure, public transport rolling stock, and implementation of energy efficient measures as the priorities for change and development of the Ukraine's capital city.
"For example, the issue we are tackling is a big-scale overhaul of roads, which are in a very neglected condition. Last year Kyiv became number one in Ukraine in terms of road repairs. We have renewed over 200 kilometers of roads, and set an ambitious goal to repair 300 kilometers this year," Klitschko said.
"But everything demands sufficient funding. That is why we need assistance. For example, a large scale project we are going to implement is the overhaul of the ring road around the capital. We also need to have big roads reconstructed, and we lack interchanges which should be built. We seek to attract investors for these projects," the mayor stressed.
Read alsoKlitschko: Conflict in Donbas controlled from outside UkraineThomas Maier, the Managing Director for Infrastructure at European Bank for Reconstruction and Development, pointed out that the Bank was interested in further cooperation with the city of Kyiv.
"Our message is that we would like and are ready to do cooperation with Kyiv, as you do good things. We had a successful experience of cooperation in crafting the transportation scheme of Kyiv, and renovation of the rolling stock of public transport. We are interested in projects of metro construction. For us, Kyiv has become an understandable partner, who works transparently," Maier noted.
According to Klitschko, implementation of energy efficient measures is also important in terms of investment attraction. "We implement such measures, as nowadays during the tariffs surge, it is very important. But unfortunately, we lack funding for full-scale measures. And we are working on creating programs for investments in this area," Kyiv mayor said.
Read alsoKlitschko to use his reputation to promote Kyiv - expertIn Davos, Vitaliy Klitschko will hold a number of bilateral meetings, particularly, with the President of Bank of America, the President of Socar company. He will also attend an event organized by the U.S. newspaper the Washington Post, which gathers global leaders in politics, finance, media, and hi-tech.