Photo from facebook.com/groups/andriivskyi.descent
"The blueprints are ready. We did them for free. Four of us worked on them: Vyacheslav Morskoy, Serhiy Kazariants and myself; the interior was designed by Oleh Volosovsky – all are residents of Kyiv who care about Kyiv's appearance," architect Herman Volga told the Ukrainian news portal Ukrainska Pravda.Kyiv.
"This is an alternative vision of how this theater could have looked like, built in another style, with love of Kyiv, its historic buildings," he said.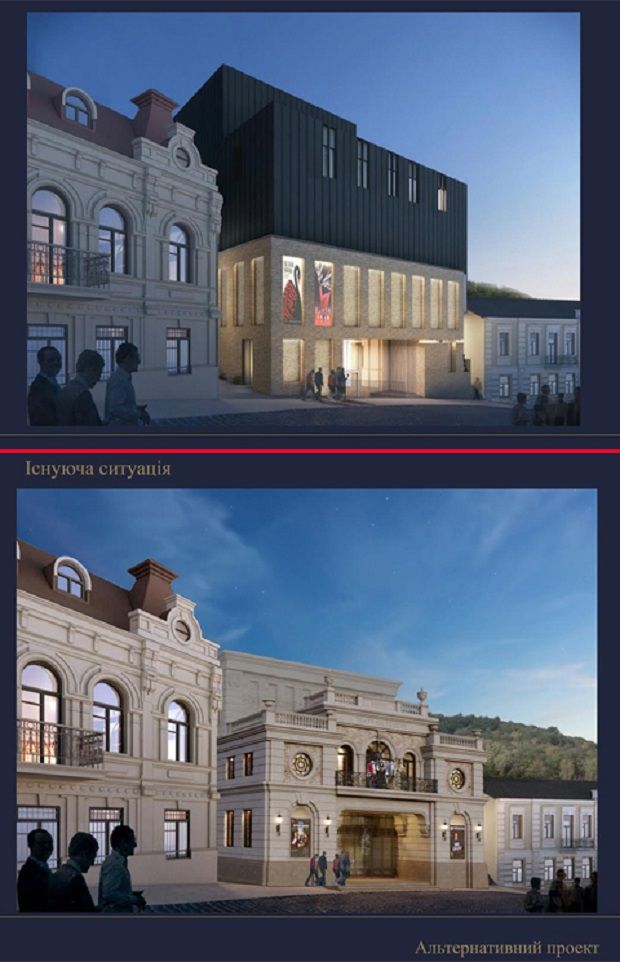 The existing design (upper), the alternative project (lower) / Image from kiev.pravda.com.ua
The alternative design maintains all the necessary characteristics, including the size of the stage, the auditorium, but they will fit into a much smaller building. One section will be a two-story theater, the other will have three floors.
"We have reduced the space behind the stage. There is no need for such large fly galleries, the area where items of the scenery are hidden. Such large fly loft is not needed when there are 300 spectators, therefore the height was reduced. We also removed the theater's underground entrance. We believe it is better to have the entrance on the surface rather than underground," he said.
Another difference from the current project is that the theater will have a covered lobby in the front yard and a balcony, which serves as the extension of the scene.
He added that the appearance of the theater would be in line with the entire street, as its cornices and windows are designed in the same style as those of neighboring houses on Andriivskyi Uzviz, where the theater is located.
Read alsoKyivans launch petition against new Kyiv theater facade, over half of signatures collectedAs UNIAN reported earlier, the local public cried foul over the unveiled facade of a new Podil Theater building, and started an online petition against the appearance of the new theater, which quickly gathered the needed number of signatures.
The project was sponsored by Roshen Corporation, which spent UAH 165.854 million, or about US$6.5 million, on it.
The theater was scheduled to open its doors in spring 2017 and the ribbon-cutting ceremony was timed for Theater Day.
Kharkiv-based Drozdov & Partners bureau is the general designer. Its chief designer is Oleh Drozdov, who was born in the Russian city of Volgodonsk in Rostov region in 1966. He graduated from Kharkiv Construction Institute, majoring in Architecture. In 1997, he founded the bureau whose portfolio includes 84 projects, 19 of them have already been implemented.