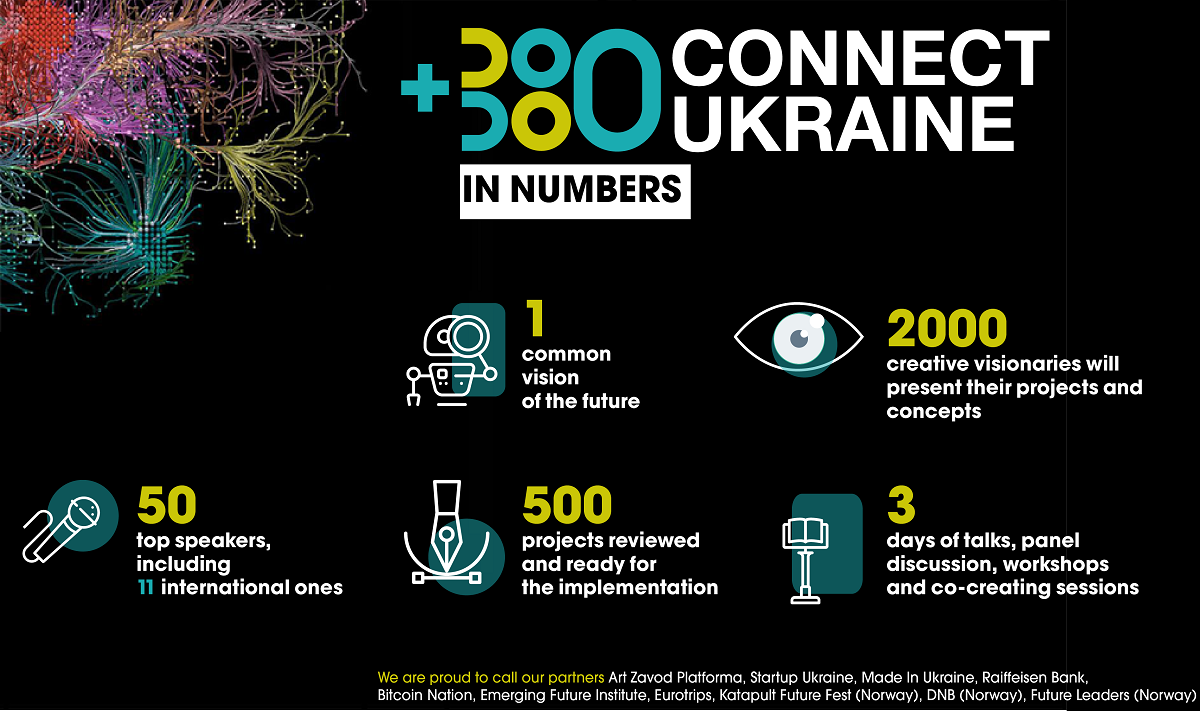 The press conference will unveil an updated agenda of the Connect Ukraine Festival
A Connect Ukraine Festival kick-off press conference is to start at 13:00 on Tuesday, July 25, 2017. The venue is the Ukraine Crisis Media Center at 2 Khreshchatyk Street, Kyiv. The event offers meetings with the organisers of the event and key speakers, and will announce an updated agenda.
CREATIVES UNITED
There are not many things as exciting as the process of creation—except, co-creation.
July 28-30th, more than 2,000 social entrepreneurs and corporates, visionary innovators and creative artists, technologists and ethical hackers from Ukraine and all over world will converge in Kyiv to brainstorm ideas, develop prototypes and co-create projects that will redefine the future of Ukraine.
Over three days filled with theory and practice, participants—with the help of corporate sponsors and non-profit organizations—will learn how to define the unique purposes of their lives and projects and inscribe their individual ideas into a greater vision of the country's development. They will explore how to take action and develop prototypes that will be tested and realized in real world.
The format of the festival is: day conferences + night entertainment and networking. The day program consists of 50% inspiring TED-like talks and 50% workshops from more than 60 international and ukrainian top-rate speakers—experts on IT, creative services, media, arts, crafts, production and other areas identified as the biggest potential economic growth areas.
Topics will include virtual and augmented reality, AI and automation, social impact and sustainability, bitcoin and blockchain. In the afternoons they will give workshops based on design thinking, ideation, prototyping, and how technologies of launching a real social impact business meant to give practical skills in creation, collaboration and entrepreneurship.
Goal of the festival: 500 projects ready for implementation and investors' consideration with real first investment money provided to Hackaton's winners.
The mission of the project is to spark innovation and creativity within Ukraine, to boost the creative sector of national economics, re-evaluate its underrated creative assets, and make it attractive to local and international investment.  Connect Ukraine festival is is a meeting place for creators and investors, ideas and possibilities, a sort of a business incubator and idea market showcasing the best of what Ukrainian creative industry has to offer.
Speakers and Workshop Moderators:
Toni Lane Casserly (US) — Bitcoin and blockchain expert, co-founder of BitNation
David Passiak (US) — Co-creation Guru, author of Empower and Disruption Revolution
Doug Burnett (US) — Associate Creative director at Leo Burnett New York
Michael Engström — CEO & Publisher, TilliT Happy Newspaper
Casey Fenton (US) — Founder of Couchsurfing
Dmitry Shymkiv — Deputy Head of President's Admin for Reforms
Natalya Popovych — DiscoverUkraine.ua, Founder
Dmytro Borysov — owner and CEO of Borysov Restaurants
The Festival is being organized by an international team of passionaries having the unshakable faith in the future of Ukraine, top-notch pros working in such fields as social entrepreneurship, co-creation, events, media, design, music, IT and game design, media and digital, NGO sector, startups and investment for free.
Partners of the event are Art Zavod Platforma, Startup Ukraine, Made In Ukraine, Raiffeisen Bank, Bitcoin Nation, Emerging Future Institute, Eurotrips, Katapult Future Fest (Norway), DNB (Norway), Future Leaders (Norway).
The Project's Co-Founders are Norwegian social entrepreneur Jorgen Bo and Sophia Yuschenko.
Festival tickets can be bought here:
https://m.concert.ua/eventpage/connect-ukraine-festival
FB: https://www.facebook.com/connectukrainefest/

Organisers:
Alisa Goloshapova
+38 096 700 86 77

Contacts for media:
Nataliya Gryvnyak, innovations journalist
+380503310124
Press accreditation: