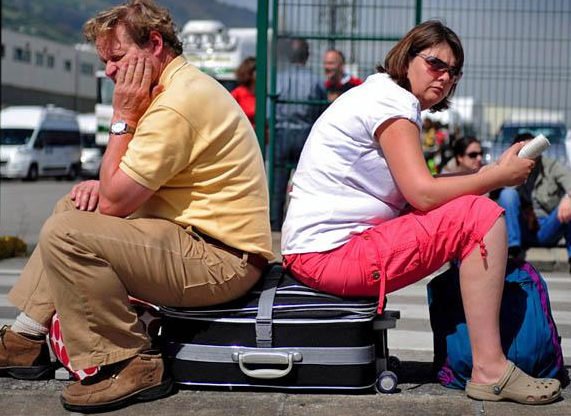 Photo from Allpravda.info
"We've got a flight from Zhuliany to Tenerife. Dart Airlines is a carrier, IdrisKa Tour is an operator. The airport has no information about the departure at the moment," one of the affected tourists told TSN.
"The airport told us that the tour operator had not paid for the flight and almost 100 people are stranded at the airport, being unable to travel. Two flights are involved: the first one is from Kyiv to Alicante and the second one is from Kyiv to Tenerife. These are charter flights serviced by Dart," he said.
Read alsoQatar Airways makes first flight to KyivJournalists tried to get into contact with IdrisKa Tour, but none of its lines was available. Most of them were simply disconnected, or there was an answering machine, TSN said.
"The tour operator gives no information, all numbers are unavailable. The people are nervous, the airport bears no responsibility. Now it is in fact fraud committed by the operator, and we've got no solution," the tourist said.
He said that he had paid for his charter flight only, while other people had bought entire packages with accommodation.
"Two-way tickets cost about EUR 500-600. We've spent more than 2.5 hours at the airport, and there is no information at the moment," he said.
Read alsoPoland, Russia, Hungary among Ukrainians' popular destinations – border agencyZhuliany Airport told TSN that the situation was extraordinary and it had not happened before. The flights have not been paid for, therefore the information about them was withdrawn. Yet, it said that the payment was expected within an hour.
"Tour operator IdrisKa Tour has not paid for the flight. We're now waiting for the payment. As soon as it arrives, people will depart. This is what our management told us," airport officials assured. "Information about the flight was public yesterday and there was no information about the non-payment. This has happened for the first time. We are all waiting now. We've been told that the payment should arrive within an hour. We've got no other details."
IdrisKa Tour has been working in Ukraine since 2006. It is a leading tour operator in such destinations as Turkey, Spain, and Portugal.