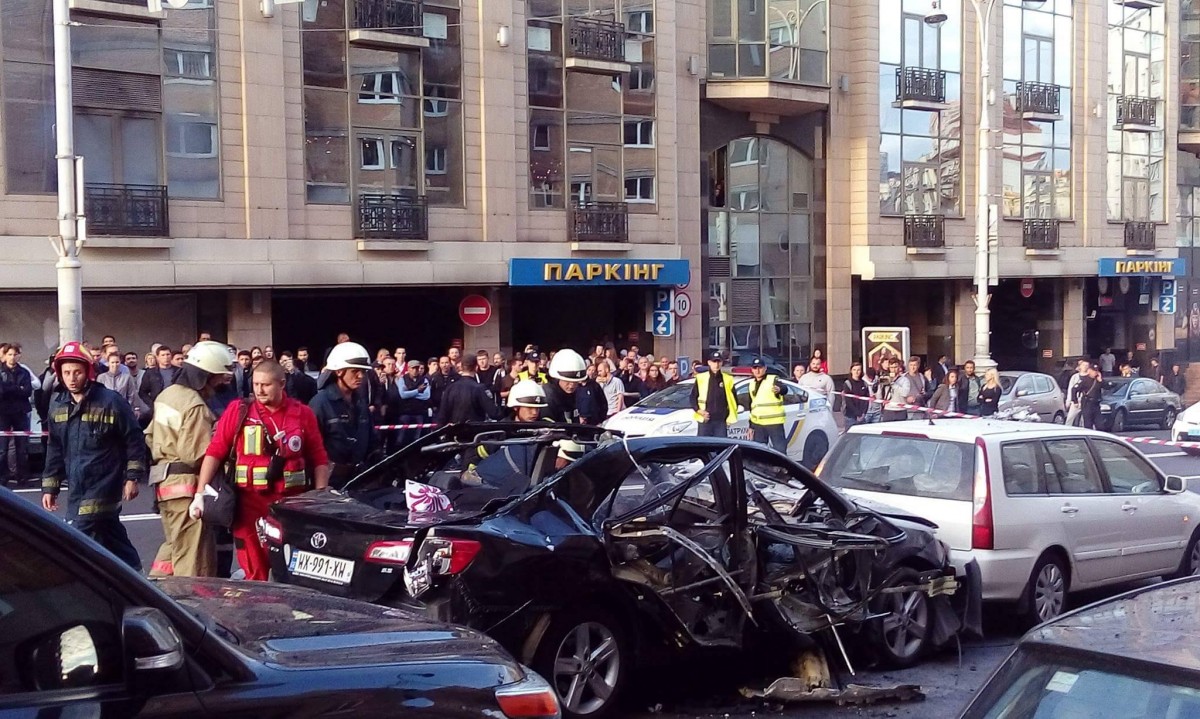 Photo from eyewitness Myroslava Naumchuk
"The man has died, a woman has lost her leg. All the services concerned are working on the site," Blyshchyk told Radio Svoboda on Friday, September 8.
The police did not provide any other details, including that a child might have been in the car.
The car was completely destroyed. The incident happened on Pavlo Skoropadsky Street near the Besarabsky Market.
The woman was driving the car, according to TV Channel 112 Ukraine.
Eyewitnesses said that the explosion was strong.
The video was posted by Tetiana Belova on Facebook.
"After the woman had been pulled out of the car, she was asking where her child was," one of them said.
Espresso.tv reported with reference to its source that the killed man was Timur Makhauri (Ali Dubayev), also known as Ruslan Papaskeri.
According to open sources, Makhauri was arrested in Turkey in the fall of 2012 on charges of killing a representative of Musa Atayev's Imarat Kavkaz, or the Caucasus Emirate, an Islamist organization that conducts an armed struggle against Russia in the North Caucasus.
Read alsoMilitary intelligence officer killed in car blast in Kyiv (Photo)After three years of litigation, he was released by a court in Istanbul, then he moved to Ukraine.
A man who introduced himself as a friend of the deceased told TV Channel 112 Ukraine that Makhauri was Chechen and had a pro-Ukrainian position.
"He was member of the battalion named after Sheikh Mansur. He was a Chechen who was supporting us, Ukraine ... My personal opinion is that Russia is involved here," he said.
Answering a clarifying question whether the deceased was a citizen of the Russian Federation, the man said: "He was a Chechen. Whether he is a citizen of Russia, I do not know that."
He also noted that the exploded car had a Georgian license plate. There were no family members in the car with Makhauri, he added.