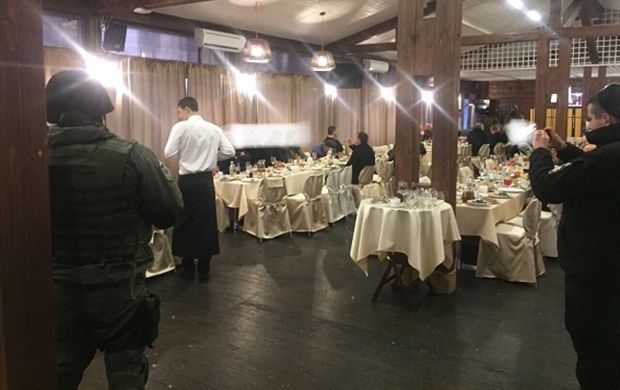 Photo from kyiv.npu.gov.ua
"Today [November 26], employees of the criminal investigation department of Kyiv's Main and Obolonsky district police departments, together with the special forces, arrived at a restaurant in Pushcha-Vodytsia. According to earlier updates, there were people there who try to influence the criminal situation in the capital and other regions," it said.
Read alsoMassive anti-smuggling law enforcement operation underway in ZakarpattiaLaw enforcers identified the participants in the gathering, and chief of the main directorate of Kyiv's national police Andriy Krishchenko announced that more than 60 people had been taken to the police department for interviews and examination. "It turned out that most of them have criminal records and have served sentences for committing various types of crimes in prisons, and more than 60 of them were brought to the police department for thorough checks," he said.
Krishchenko said that several pieces of weapons with suspicious licenses had been found amid the raid on the restaurant. They were seized for further examination. After a probe, the investigators will take a procedural decision and will select the legal qualification of the incident.