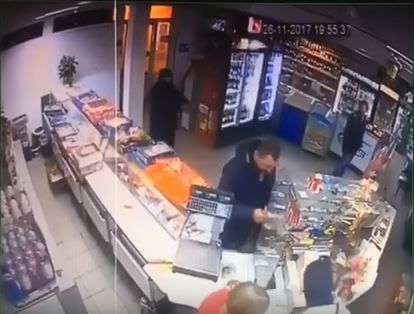 YouTube The Insider Ukraine
The attack occurred in the city's Obolon district. Two perpetrators sporting balaclavas ran into the store to rob the staff at gunpoint.
"On November 26, two unknown persons wearing balaclavas attempted a robbery at the grocery store on 3 Rokosovskoho Avenue. One of the criminals, born in 2003, was detained shortly. It turned out that he is the son of an MP and public activist... A balaclava and a "Retay" 9mm starting pistol with seven cartridges of the appropriate caliber were seized from him," the report says.
Read alsoKyiv police detain over 60 people as criminal leaders partying in restaurantLater, another offender, born in 2002 was detained. "Both intruders are registered in the Obolon district in Kyiv," the sources added.
"My family is in trouble. My 14-year-old son got into a bad company and committed a serious offense. It's my fault that I did not have enough time to bring him up, did not look at him, did not prevent this from happening. I apologize to the victims, the public, my family, and my best team. Thank God everyone is alive; there will be an investigation, the perpetrators will be held accountable without any exceptions, let it be a lesson for both my son and me," his father, MP Ihor Popov wrote on Facebook.