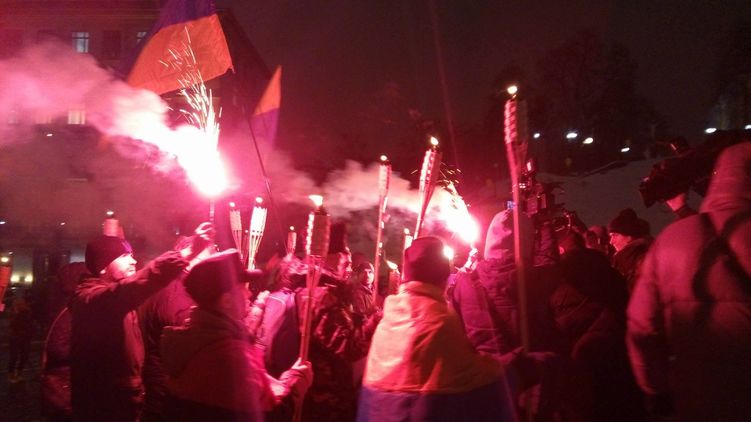 Protesters were using firecrackers and threw smoke bombs / Photo from Strana.ua
The incident happened when marchers attempted to put up a tent at the roadway near the building of the Interior Ministry at Akademika Bohomoltsia Street.
Police did not let it happen and ousted the participants in the march from the area close to the ministry's building to the corner of Akademika Bohomoltsia and Pylypa Orlyka Streets.
Read alsoEuromaidan's anniversary: The Revolution of Dignity in flashback (Photo, video)Protesters started to throw snowballs at police officers in response. Police detained them.
After the clashes, one of the participants attempted to use Molotov cocktail, but had to throw the fire bomb away and flee when law enforcement officers tried to catch up with him.
Then, the police pushed the marchers from the corner of the streets of Akademika Bohomoltsia and Pylypa Orlyka to the monument to Pylyp Orlyk on Lypska Street.
Co-organizer of the event, the leader of the Coalition of Participants in the Orange Revolution Serhiy Melnychenko said that four marchers had been detained. Yet, he did not disclose their names.
In his words, the detainees were taken to Kyiv's Pechersky district police station where other protesters were heading for at the moment of speaking.