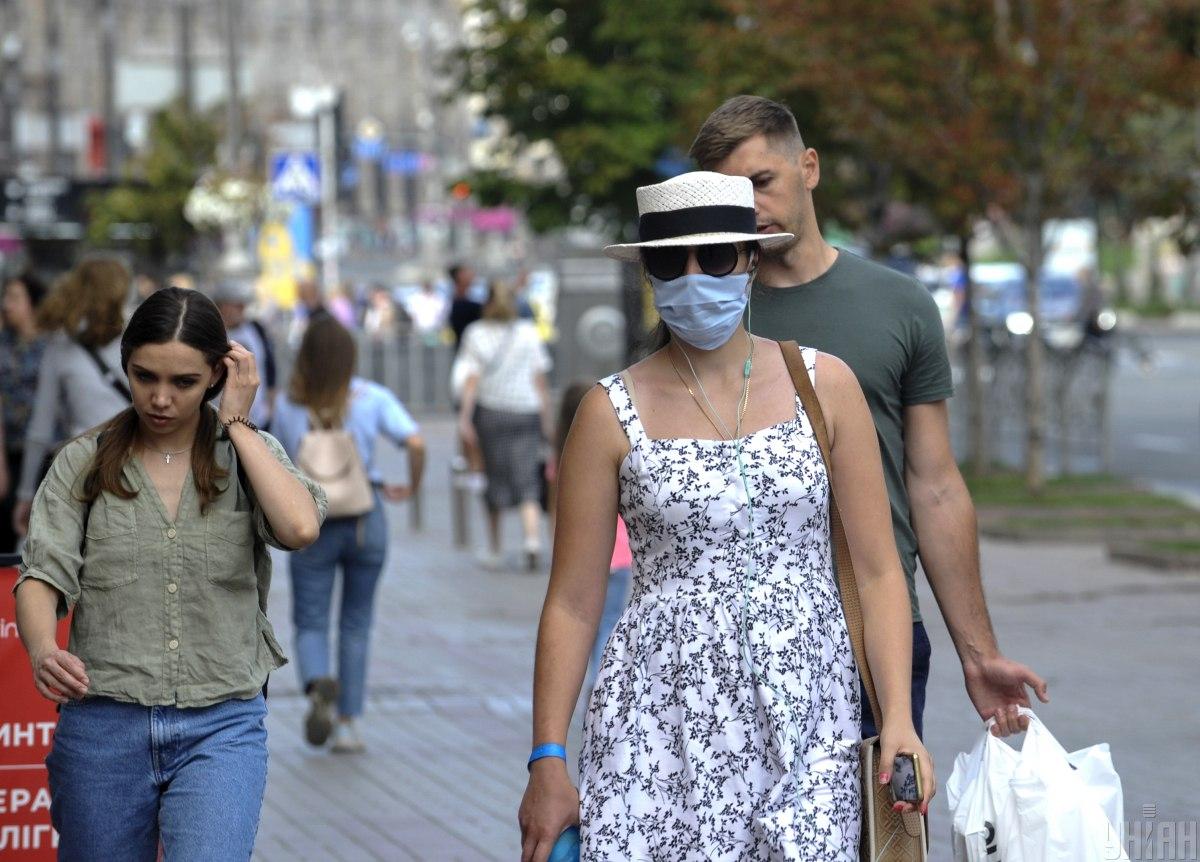 Photo from UNIAN, Serhiy Chuzavkov
Tougher quarantine rules have been imposed in Kyiv after the city was assigned to the "orange zone" in line with the adaptive quarantine criteria introduced in Ukraine on August 1.
Minister Oleh Nemchynov on Facebook explained the new set of restrictions, imposed on Kyiv residents and businesses in addition to those applied in the green and yellow zones.
Read alsoLocal elections in Ukraine to be held even in COVID-19 red zone: CECWhat's banned?
Mass events (in culture, sports, social life, religion, advertisement, and others) with over 220 attendees and more than 1 person per 10 square meters;
Operations of all accommodation facilities other than hotels;
Groups of more than 20 students in educational facilities (other than preschool, general secondary, out-of-school, and specialized art education facilities);
Scheduled hospitalization. All patients receiving medical treatment related to scheduled hospitalization are subject to mandatory COVID-19 testing;
Operations of gyms and fitness centers;
Children's admission to health and recreation camps; their rehabilitation and recreation outside the specified areas;
Visits to temporary detention centers, including those for illegal aliens and refugees;
Transportation of passengers by road (except taxis) and urban electric transport on urban, suburban, long-distance, inter-district routes with over 50% of seating capacity filled;
Reception of visitors by trade (including by shops located in malls) and household service establishments; and
Catering services, except for reception of visitors while ensuring occupancy under 50% of indoor seating capacity.
What's allowed?
In contrast to the strictest restrictions provided for the red-zone quarantine zones, orange zone still allows:
Holding mass events (in culture, sports, social life, religion, and other) with attendance up to 220 persons, with social distancing rules of 1 person per 10 square meters of indoor area;
Operations of public transport;
Studying in educational facilities;
Operations of malls, cafes, and restaurants; and
Boarding interregional transport (trains, buses, etc.).
Coronavirus in Kyiv
On September 11, a new daily high of new active cases was set in Kyiv at 404, bringing the total number of confirmed cases to 16,523, of which 261 were fatal and 11,114 still active.
The capital ranks second among Ukraine regions in terms of the number of identified COVID-19 patients (after Lviv region).
The situation in Kyiv is deteriorating: until September 10, the city was in the yellow quarantine zone, and until August 13 – in the green zone.
Adaptive quarantine in Ukraine
The adaptive quarantine was introduced on August 1.
Ukrainian regions were split into the red, green, orange zones depending on hospital load, the average number of PCR and ELISA tests, and the ascertainment rate of COVID-19.
The new rules are effective September 14 and at least until September 28 when the authorities will be reviewing zoning depending on COVID-19 developments across country.