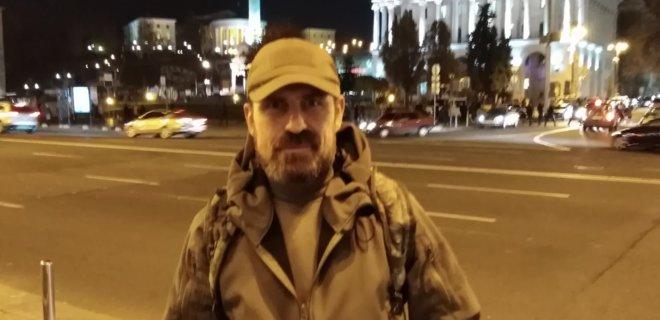 vidsich
Details are clearing up of the incident at Kyiv's Maidan (Independence Square) overnight Sunday, October 11, where a Ukrainian war veteran Mykola Mykytenko, 49, set himself ablaze in what appears to be a political act protesting against the incumbent government's policies on the ongoing war with Russia.
Motives
Three hours before the act, Mykytenko, also known by his call sign Voron (Raven) posted a statement on Facebook: "I'm thinking about how I'll be burning… Perhaps like [Soviet Ukrainian poet and dissident] Vasyl Stus?! Will there be enough strength to prove that Ukraine is what's most important? I've had enough! Come out all, my brothers-in-arms, like on the 24th, take up arms and defend our native Ukraine!!! Support me for all my sins!!! Glory to Ukraine!!!"
Read alsoZelensky says believes peace deal with Putin possibleThe man's daughter Yulia, who is also with the Ukrainian military, an instructor at the Kyiv Military Lyceum and former platoon commander at the 25th Territorial Defense Battalion "Kyivan Rus", spoke with Suspilne, commenting on her father's motives.
"The motives are purely political. His discontent with the government's actions, namely, the withdrawal of troops from the contact line and a creeping occupation by Russia. He was absolutely sober and clearly understood what he was doing. He didn't try to put out a fire. Some young men ran up and tried – at a Maidan fountain," the woman says.
The man published his last post on Facebook five minutes before lit himself up:
"Now it is 03:25. I really want Ukraine to be independent."
Before setting off to the Maidan, Mykytenko put on his military uniform and wore all his medals.
Official reports say the man sustained severe burns to 97% of his body. He remains unconscious at one of Kyiv's hospitals.
Who is Mykola Mykytenko
In 2014, Mykola Mykytenko took part in the battles of Sloviansk as part of the Kulchytsky Volunteer Battalion with the National Guard of Ukraine.
During the evacuation from Mount Karachun, he was wounded in a downed helicopter. Having undergone treatment, despite partial disability sustained, the man went back to the front line.