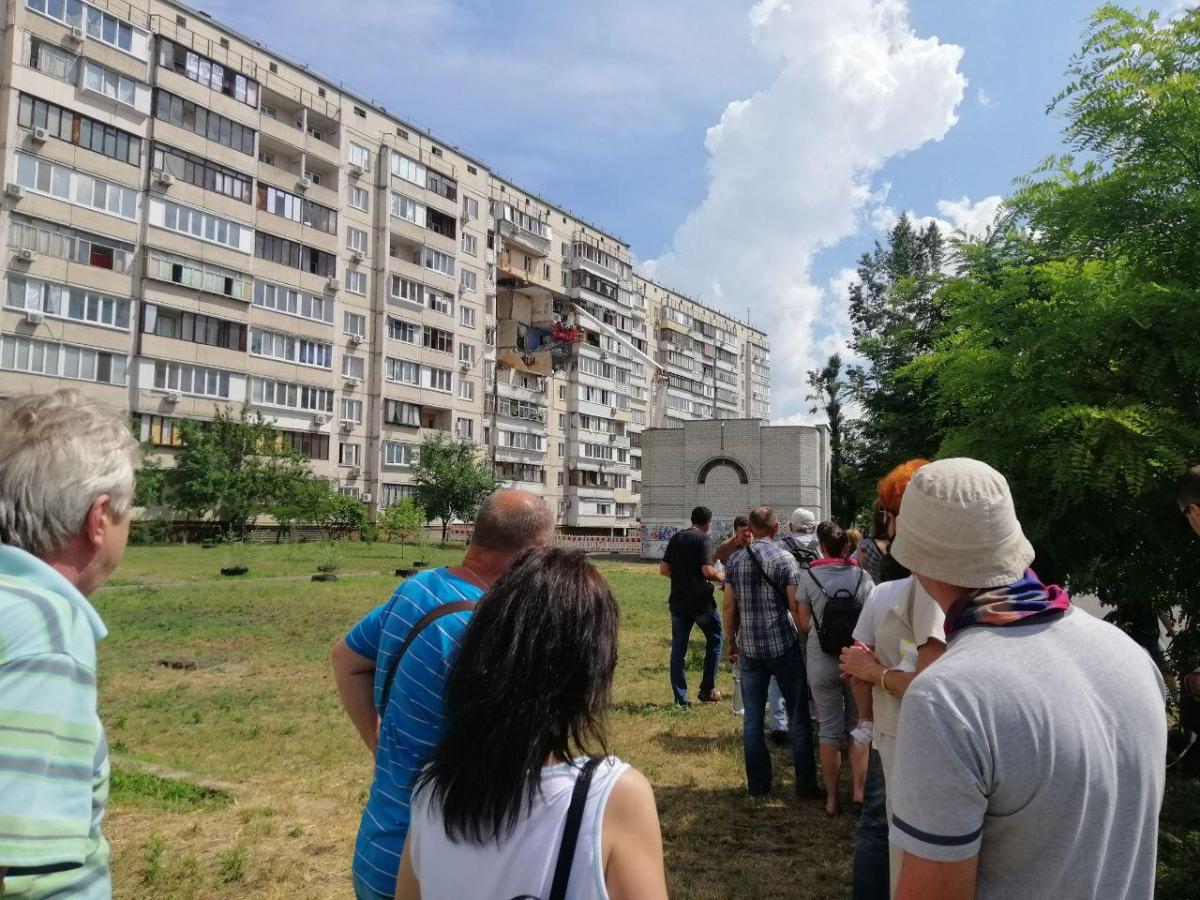 The building exploded on June 21 / Photo from UNIAN
Ukrainian President Volodymyr Zelensky has handed first ownership certificates for new apartments over to 12 families left homeless because of an explosion in a residential building in Kyiv's Pozniaky area.
"I deeply sympathize – everyone understands what it means to lose the loved ones, no apartment could compensate the loss. We help how we can and we are ready to help right now. We're keeping track of all 40 apartments," he said during a live video broadcast on the Presidential Office's Facebook page on June 25. "Now we want to give the first 12 apartments to the families with children ... and a separate apartment will be given to Anastasia [Nedashkivska], who lost her whole family [both parents and a brother], and Anatoliy, who lost his father."
Read alsoKyiv house blast: Residents claim smelled gas mixture following maintenance works
According to the president, these are newly built apartments without interior decoration. Zelensky asked Mayor of Kyiv Vitaliy Klitschko, who was present at the event, to help finish the decoration of the apartments.
The president said that 28 certificates for the remaining apartments would be handed over to all other victims within a month.
"I'd like to say that we have found all 40 apartments. They are all in Kyiv – not in the region. These are new apartments. Twelve apartments are ready – they are completed," the presidential press service quoted Zelensky as saying on the air of the Right to Power program during a TV broadcast from Ivano-Frankivsk region, where the president is on an urgent working trip. "Within a maximum of one and a half months, we will allocate another 28 apartments to the families."
The president stressed that no budget money would be spent on the purchase of the apartments.
"We talked to real estate developers. The President's Office found developers who helped us," Zelensky explained.
As UNIAN reported, several apartments in a ten-storied apartment block at 1/5 Solomii Krushelnytskoi Street in Kyiv's Darnytsky district were damaged by an explosion at about 10:00 a.m. on Sunday, June 21. The explosion destroyed interfloor structures between the fourth and eighth floors. A leak of household gas is reportedly the cause behind the incident. More than 100 people lived in the destroyed part of the building, they were evacuated. The incident is being investigated under Part 2 of Article 270 (violation of fire safety requirements established by law) of the Criminal Code of Ukraine.
Since the launch of the rescue operation, five bodies have been found under the debris: two women, born in 1943 and 1974, and three men born in 1991, 1967, 1976. Ukraine's State Emergency Service said all residents of the destroyed apartment block had been identified.
On June 24, Deputy Chairman of Kyiv City State Administration Petro Panteleev said that the victims would be paid compensation worth from UAH 50,000 to UAH 100,000 (about US$1,800 – US$3,700) each and provided with housing equivalent to the one they had lost.