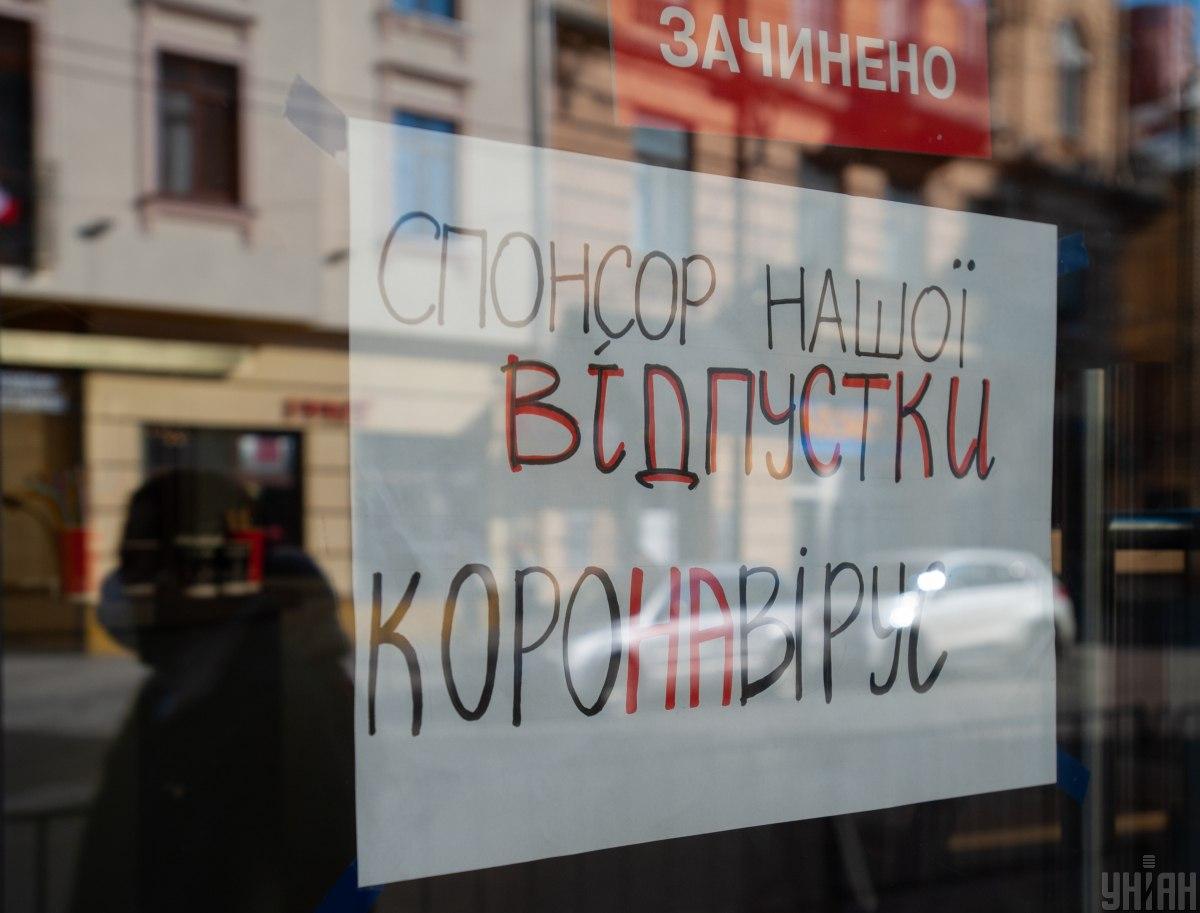 The sign says "Your vacation is sponsored by the coronavirus" / Photo from UNIAN
Kyiv Mayor Vitaliy Klitschko has presented a plan for easing quarantine bans in the capital city.
Klitschko added this was not about the complete lifting of restrictions.
"If we don't see sustainable dynamics in reduced incidence in a week or two after their introduction, we won't proceed to the second stage. If the situation worsens, we will get back to quarantine," Klitschko said at an online briefing, the Novoe Vremya weekly reported.
According to the mayor, authorities plan to begin the first stage of quarantine easing on May 12 if the coronavirus rate doesn't grow.
The first stage envisages the reopening of:
• Non-grocery stores with a total area of up to 300 square meters, with one visitor per 10 sq m allowed and mandatory sanitizing of premises twice a day;
Large shopping malls and boutiques they host will not be reopened at stage 1;
• Hairdressing and beauty salons. They will be able to resume work only by appointment with one client for each service at a time and mandatory sanitizing of workplaces after each client;
• cafes, as well as restaurants – in takeaway mode. Premises must be sanitized twice a day;
• kiosks and stalls – while food and drink consumption on spot will still be banned;
• small-scale producers of non-food goods and consumer services (ateliers and others) – with one employee per 10 sq m and one client per 10 sq m;
• lawyers and notaries, as well as auditors – one client per 10 sq m;
• parks and squares – people will be able to walk in groups of no more than two. Or, if children are accompanied, it's two adults – two children; and
• drive-in movie theaters.
Read alsoMost Ukrainians consider quarantine restrictions optimal – poll
"Thermal screening of employees and visitors is mandatory in all institutions and enterprises. Also, there are mandatory safety rules. If clients don't have a face mask, they are not allowed entry, or it is the responsibility of a service provider to provide them with the mask," Klitschko said.
The mayor also expressed hope this week the Cabinet will add markets to the list of objects that will be allowed to reopen and determine the rules of their work.
Klitschko emphasized that schools and kindergartens, children's and sports grounds, as well as coastal recreation areas would remain on lockdown at the first stage of quarantine easing.
Read alsoOutrage as MP's restaurant in Kyiv keeps working for VIPs amid quarantine – media
"Public transport will continue working in a limited mode at the first stage... The subway in the capital will be opened by government decision. And the government promised first to restore the work of commuter transport," Klitschko added.
The mayor also said all Kyiv residents must adhere to safety rules and wear face masks in public places.