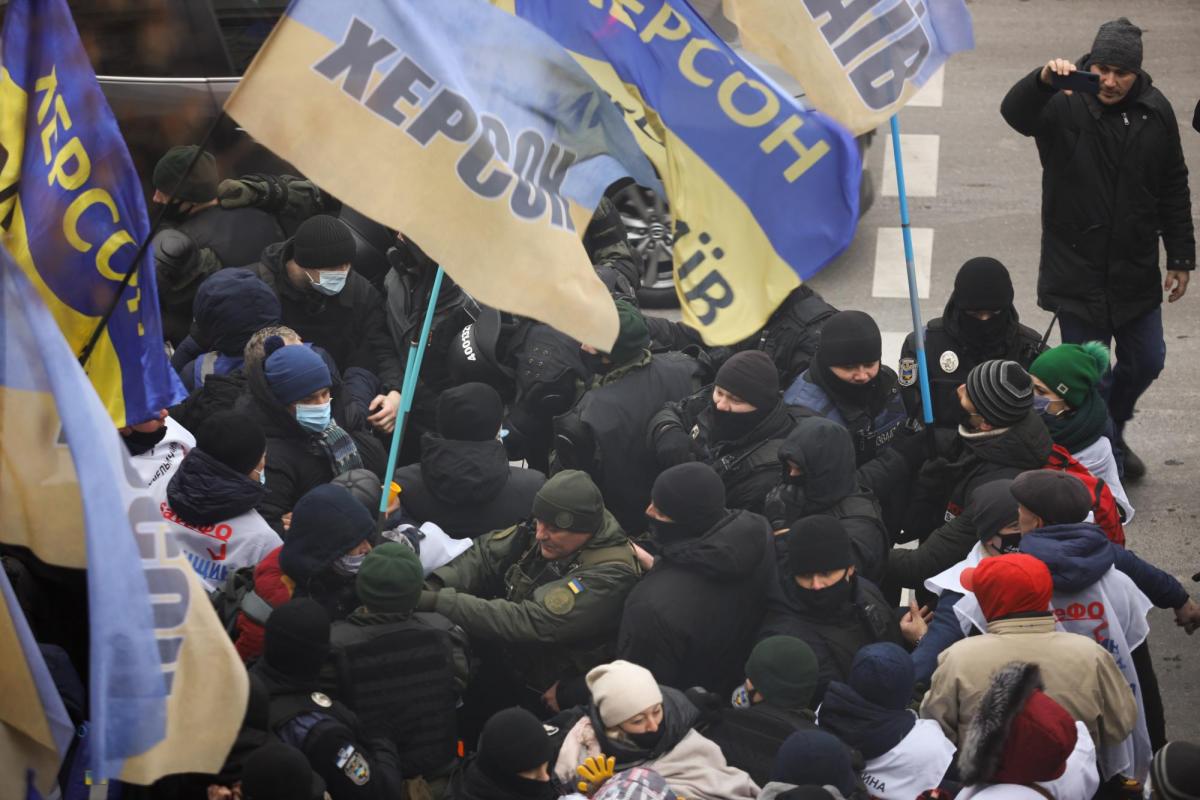 Entrepreneurs, police clash outside parliament's building in Kyiv / Photo from RBC Ukraine
Clashes between entrepreneurs and police have been reported outside the building of the Verkhovna Rada, Ukraine's parliament, amid a large-scale rally against the introduction of cash registers.
Representatives of the SaveFOP [Save Individual Entrepreneurs] movement were preventing lawmakers from entering the parliament's building. Therefore, the National Guard and the National Police tried to form a corridor for the MPs to get into the building, the RBC Ukraine news agency reported.
Entrepreneurs' protests in Kyiv
A rally whose motto is "Quarantine for the Cabinet of Ministers!" organized by the Protect FOP Council of Cities (radamist.org.ua) union of entrepreneurs started in Kyiv's government quarter on Tuesday. Private entrepreneurs representing micro- and small-sized businesses, as well as business associations from all over Ukraine are taking part in the event.
The protesters are opposing the immediate introduction of cash registers for private entrepreneurs.
On Tuesday morning, the protesters blocked traffic on Hrushevskoho Street.
Milestones
The introduction of software-based recorders of payment transactions in Ukraine should take place in three stages. The first stage started on August 1, and it provided for the voluntary installation of cash register software by businesses in 2020.
Read alsoKyiv entrepreneurs rallying against weekend quarantine (Photo, video)The second stage was supposed to begin on January 1, 2021, when the scope of online cash registers was to be expanded to critical, so-called risky business areas. This applies to trade in textile goods, used goods, hotels, restaurants, e-commerce. These are the business areas with the greatest risks of hiding transactions.
The third stage, scheduled to begin on April 1, 2021, provides for the introduction of cash registers for all private entrepreneurs who belong to the second and third groups of the simplified taxation system.
Lawmaking developments
On November 3, 2020, Parliament Speaker Dmytro Razumkov announced that the Verkhovna Rada planned to consider as an urgent draft law on the postponement of the use of cash registers by entrepreneurs using the simplified taxation system for a year, until January 1, 2022.
On November 4, 2020, it became known that the bill on the postponement of cash registers was tabled in parliament.
On the same day, November 4, 2020, lawmakers failed to vote on the document.
Parliamentarians are expected to consider this bill again this week.