Photo from facebook.com/KseniaLiiapina
Several hundred entrepreneurs from the capital city of Kyiv are rallying outside the building of the Verkhovna Rada, Ukraine's parliament, against the so-called weekend quarantine.
Read alsoEffectiveness of "weekend quarantine" to become clear in about two weeks – health ministryAccording to the protesters, the relevant decision is discriminatory, as reported by the TSN TV news service.
"We pay all taxes in full, but we are not given the opportunity to work and earn money for our family. How can we live?" one of the protesters said.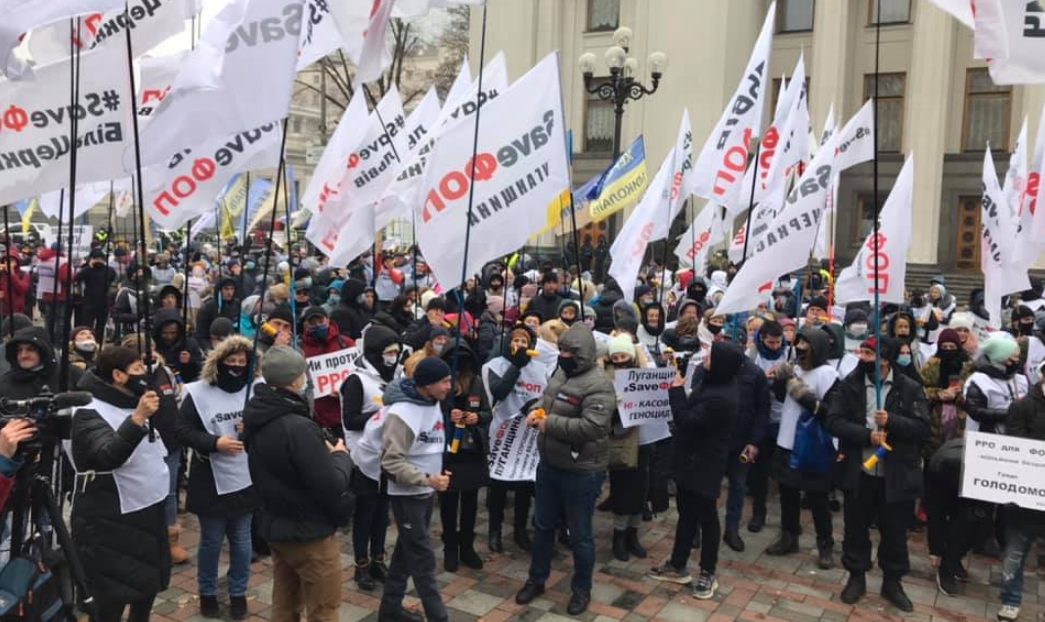 Photo from facebook.com/KseniaLiiapina
"We are on guard for the Tax Maidan [Maidan Nezalezhnosti, or the Independence Square, is a venue downtown Kyiv where the most important protests in Ukraine's history took place]!" another protester wrote on Facebook.
The protesters also demand the later introduction of cash registers for private entrepreneurs.
Weekend quarantine in Ukraine
On November 11, the Cabinet of Ministers decided to introduce the weekend quarantine in Ukraine from November 14 to November 30. It is in effect from 00.00 a.m. Saturday to 00.00 a.m. Monday.
On the weekend, a ban will be in effect in addition to the restrictions provided for on weekdays, namely cafes and restaurants (except for the take-out service), shopping malls and entertainment centers, other entertainment outlets, fitness centers and the like should be closed on Saturdays and Sundays.
Only grocery stores, pharmacies, veterinary pharmacies, medical institutions, gas stations are allowed to operate.
During raids on the very first day of the recently imposed weekend quarantine, Ukrainian police formed 1,542 raid groups, which inspected over 17,000 economic entities, as a result of which 1,355 businesses were shut down.