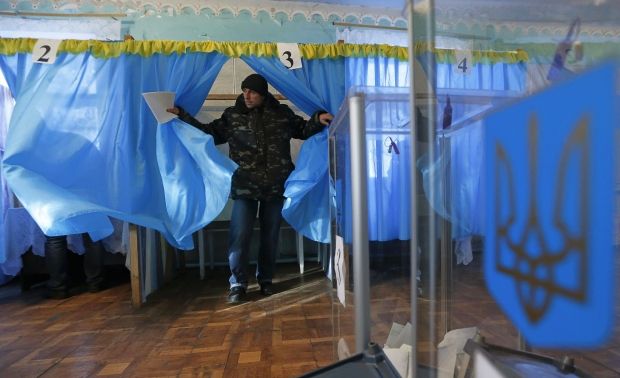 REUTERS
The Popular Front headed by Prime Minister Arseniy Yatseniuk came second with 19.9% and the Samopomich Party third with 12.6%. The Radial Party of maverick politician Oleh Liashko took 8.1%, and the Opposition Bloc, largely made up of former supporters of ousted President Viktor Yanukovych, had 5.8%
The right-wing Svoboda Party took 7.4% of the vote, and former PM Yulia Tymoshenko's Batkivshyna Party took 5.6%
The pro-Russian Communist Party failed to break the 5% threshold and, for the first time in the history of independent Ukraine, will not have any seats in parliament. Also failing to break the threshold were the Civil Position Party, the pro-Russian Strong Ukraine Party, and the far-right Right Sector Party. A total of 29 parties ran in the election.

The exit poll of 20,000 registered voters has a margin of error of +/- 0.7%.

Ukrainian President Petro Poroshenko said as he was voting earlier in the day that he was confident the vote would bring a "victory for democracy and a victory for a pro-European Ukraine," Radio Liberty reported.
The result gives a welcome boost to President Poroshenko, who needs a supportive majority in the Verkhovna Rada, as Ukraine's parliament is named, to help push through his reform program. The president is widely expected to keep Popular Front leader Yatseniuk on as the country's prime minister.
The final shape of the parliament won't be known until all the official results are in from the polling stations and majority constituencies. Ukraine has a mixed voting system, with half of the 450 seats being decided in first-past-the-post races in 225 voting districts, and the rest of the seats awarded proportionally according to party lists. However, experts have said that 30 or more seats will remain unfilled for now due to difficulties in holding the elections in Crimea, which was seized from Ukraine by Russia in March, and in the parts of the eastern regions of Luhansk and Donetsk that are at present under the control of anti-government insurgents backed by Russia.
The Central Election Commission has said it expects to have the task of calculating the official, final result of the poll completed by Wednesday.

According to Ukrainian election monitors, there were no serious violations of election procedures during the vote. Ukraine's National Security and Defense Council said there had been 19 hoax bomb calls made on polling day. Security in the capital Kyiv in particular had been stepped up in the days leading to the poll, with fears that pro-Russian elements might attempt to disrupt the voting, but polling day was generally peaceful around the country.