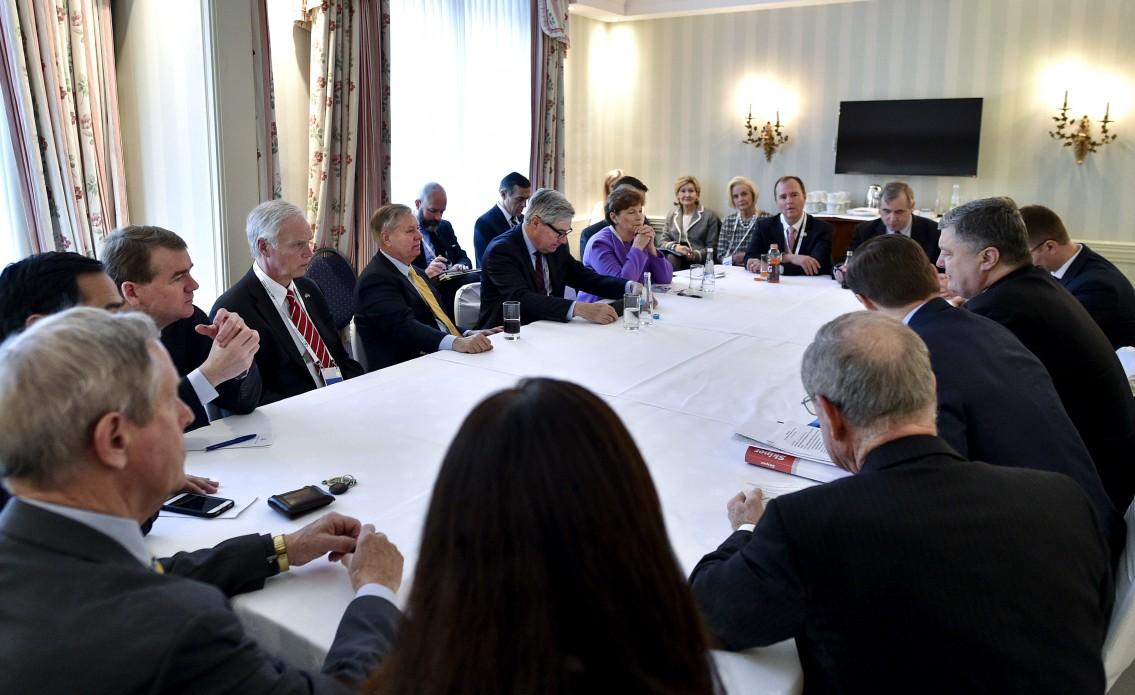 Poroshenko meets with Congress members to discuss anti-Russian sanctions / Photo from president.gov.ua
Ukrainian President Petro Poroshenko on Saturday held a meeting with a U.S. Congress delegation, during which they discussed, among other things, sanctions against Russia and the de-occupation of Crimea.
"Poroshenko expressed gratitude for the leading role of the U.S. Congress in rebuffing the Russian aggression and defending Ukraine's sovereignty and territorial integrity. A vivid confirmation of such support was the adoption of the 'Countering America's Adversaries Through Sanctions Act', some provisions of which are already being implemented," the president's press service reported.
The president emphasized that Washington's decision to grant Ukraine lethal defensive weapons and increase the sanctions pressure was not only a response to the destructive position of Moscow, but also created a favorable background for the peace process in Donbas.
Read alsoReuters: Ukraine progress should soften sanctions on Russia – Germany's GabrielIt is reported that Poroshenko is hopeful that financing of the programs of security assistance to the Ukrainian state, including the provision of defensive weapons, will be fully supported by the Congress in the future as well.
The parties also condemned the intention to hold Russian presidential elections in the temporarily occupied territory of Crimea. Further steps were coordinated to strengthen the international front for the de-occupation of Ukrainian Crimea.
The parties discussed Ukraine's progress in implementing the programs of reforms and developing cooperation with the IMF. They noted the efforts made to reform the security sector, as evidenced by the intention to consider a bill on national security in the Parliament in the near future.
The president of Ukraine also urged the U.S. Congress to support the official recognition by the U.S. of the Holodomor of 1932-1933, artificially created by the Stalinist regime, as a genocide of the Ukrainian people.